"Tere Bin" features some 2000 hand-drawn sketches that have been painstakingly animated
There is a certain charm to hand-drawn frames; a jerky, jagged movement style that has been burned into our brain by every old-school cartoon ever. The art of the characters in these animations are as striking as the story that is being conveyed. Pune's After Acoustics have chosen this direction for the music video for their new single 'Tere Bin'. Obviously this means embracing the huge amount of effort required to go the fully hand-drawn route. The band's guitarist Anurag Singh collaborated with artist Anukriti Sharma to bring this concept to life; she drew all the frames (often for hours every day) and Anurag Singh. We spoke to him about how they accomplished this and more.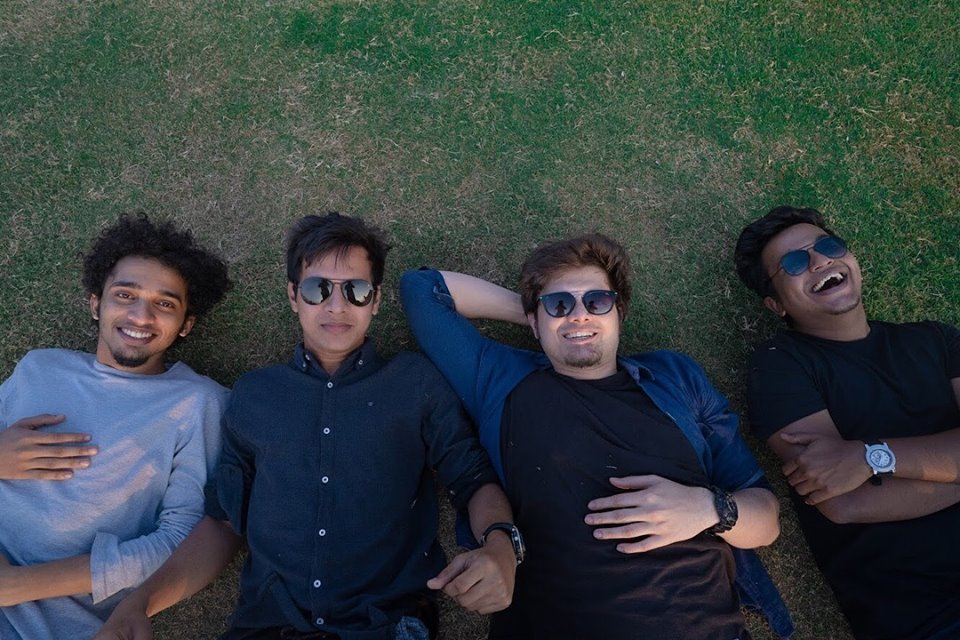 How did you and Anukriti meet? Where did the idea come from for the project?

Anukriti takes lessons from me in Guitar and is also a brilliant sketch artist. She has an Instagram handle dedicated to her sketches and painting pieces which I was impressed by and offered her a collaboration. I was earlier planning to shoot the video of the song traditionally but lack of funding lead to the video being postponed indefinitely. So I planned to make a zero budget video with nothing but creativity and a very talented and zealous young sketch artist.
Where did you first get interested in animation and video? You directed and edited the project; have you thought of pursuing this on its own?
I had already written the story for the video which was meant to be filmed traditionally. I was planning to direct the music video myself. But the idea got canned due to lack of funding. This led me to think of an alternative; the idea of making an animation music video popped up in my mind. I started working towards it. I did some changes in the script and started looking for artists who I could collaborate with. I have always been fascinated with doing everything on my own, from writing the songs, composing it to manage my band and now I'm planning to direct and edit music videos on my own. Talking about pursuing animation, I am still learning; I learnt VFX on my own from the start only for this project. I think there's a long way to go. I am up for anything that this musical journey offers.

What in your opinion is the most compelling thing about hand-drawn animation (sketches that are computer-animated)? It is extremely time-consuming; what do you think is the payoff?

Animation technology and the knowledge of it has expanded rapidly over the past few years, it is a common sight to see someone to make an animation video and they are quite popular but I wanted to do an old school frame by frame sketching and animation to involve and highlight the human element in it. It sounds bizarre but the work that goes behind it and the amount of creativity needed for a hand drawn animation attracted and drove me to make this video. There was also a desire to deflect from the norm and do something different. Learning was the ultimate payoff here, but appreciation of our work and art worked well too.
This song has some mandolins in it along with more 'Western' instrumentation.
What musical influences have brought you to this song (creatively)?

We drew influences from classical Indian music as we've been ardent fans of it for quite a long time; we're also inspired by western bands like Mumford and Sons and Coldplay. Our attempt was to create a fusion that worked harmoniously and didn't seem too forced. We included Mandolin for its love element and the romanticism it helps build in love songs.
The relationship between a music video and a song is very important. In this case, it's almost like the video works by itself as a short film and the song stands on its own as well. What was the creative process with Anukriti like? Were you both constantly relying on the song to draw, did the story of the video come first, or was it a combination of the two?

The story is not based on the song but the song on the story. When I briefed Anukriti in the concept and story, she was just as excited as me. We started working right away at Anukriti's place: I dictated her frame by frame instructions of how I wanted it to look lik and she tirelessly laboured on the pieces for as much as 6 hours a day. She used to amaze me with the beautification of the frames. This became our daily routine for 22 days. Apart from the sketching, for all of those days I would complete the art routine and work on the VFX for 5-6 additional hours at home. My sleep was reduced to just 2-3 hours a night in that time period.
Watch music video of Bin Tere below: