Prateek Kuhad, Brodha V, ViceVersa among RCFA fifth edition winners
Mar 23, 09:08pm
 Indie artists were honoured at the grand finale, alongside the performances by Maati Baani, Khasi Bloodz, Sifar and Paranox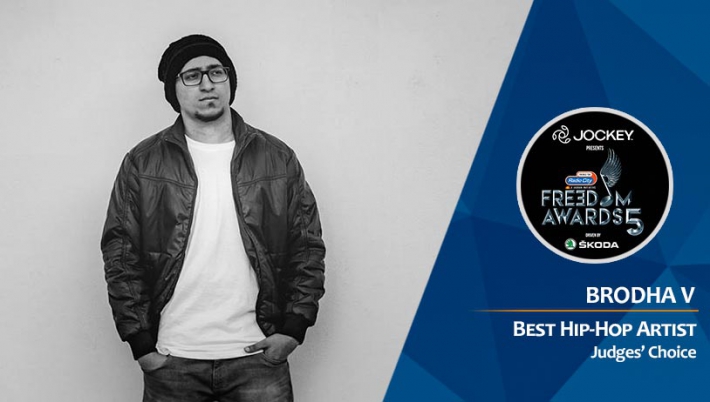 Photo Courtesy: Radio City
It was heartening to see the vast pool of creative newer talent participating in the latest edition of Radio City Freedom Awards that hosted 13 cities and record breaking 862 entries. Hip hop category had a tough competition with the acts like Prabh deep, DeeMC, Tupakeys, Babu Haabi known for being the voice for Udta Punjab & getting in legal trouble for its depiction of Mahatma Gandhi in his single "Bobocanta" and newer but really talented names like - Samir Rishu Mohanty (Big deal) & Krishna among others. However, beating others Brotha V and Emiway bagged Best Hip-Hop Artist Judges' Choice and Best Hip-Hop Artist Popular Choice.
Hailing from Bangalore Vighnesh Shivanand a.k.a Brodha V was awarded with the 'Best Hip Hop Artist' and the 'Song of The Year' awards for his hit song 'Aathma Raama'. He is known for his unique style of blending Rap Music with Indian Classical and Folk genres. Known for his lyricism and catchy hooks, he has carved a niche for himself in the Indian Hip Hop scene. His fusion of hip-hop with Hindustani and devotional music makes him a unique rapper.
Listen to his new single called 'Way Too Easy' and in this super catchy song of rebellion, he gets back at people who say that you can't and you won't, by constantly proving them all wrong by the doing the impossible, while making it look easy.
Emiway Bantai is one of the youngest rappers of the lot. His mad flow, crazy beats and his true-to-the-Mumbai-streets style make him one of the hottest Indian rappers in the hip-hop scene. He has successfully built a huge audience on his YouTube channel.
Watch Emiway's Tadak Padak to know more
Amongst the Pop artists were some known names in the scene like Alobo Naga (The music icon from North east), Kamashi Khanna (gained mainstream recognition on The Stage), Raghav Meattle(Stage 2 finalist) among others. Yet, Sparsh a Hindi Alternative Rock Band from Mumbai was able to gain people's attention and bagged Best Pop Artist Popular Choice. And Prateek Kuhad, Delhi based singer-songwriter took home Jury's Choice award for Best Pop Artist.
Sparsh is a Hindi alternative Rock band based out of Mumbai. From being a band who used to jam in the open alongside the creek of Thane, to being the winner of Mood Indigo Bombay 2011, this band has come a long way since its inception in 2010.
Check out their first even official music video for a single named Samandar
Prateek, with his unique blend of minimal, folk arrangements and pop rock melodies, effortlessly captures life's complexities in his songs. Having toured around India he has also performed in New York, Austin, Toronto, Brisbane and Singapore. Over the past one year, Delhi-based Kuhad has opened for American pop singer Mike Posner during his three-city tour in January; signed a song writing publishing deal with US-based Cutcraft Music Group; completed a sold-out three-city tour of limited-capacity venues across the country; released the well-received singles Tum Jab Paas and You Are Mine; and made his playback singing debut with the track Udi in the film Gurgaon.
Prateek perfectly recreates the warmth and vulnerability that is a signature on his recordings, using his folk-pop sensibilities to forge an infrangible connection with the audience. Watch/ Listen to his single Tum Jab Paas
Amongst the best of Indie Rock Artists like Akashic, Joshish, D`s Kitchen, Underground Authority, Naalayak, Sifar, black letters, Junkyard Groove, Fireflood was awarded with Best Rock Artist by Popular choice and Parvaaz won Best Rock Artist by Jury's choice.
Fireflood is a Bangalore based gospel band that was founded in the summer of May 2014 by the frontman and vocalist Jeven John and lead guitarist Willy Karlukhi. Fireflood is a classic rock band with a balance of rock & roll and blues. When seven professional musicians unite brewing a powerful essence of years of deep fellowship with the savior of the soul, a musical excellence that interlocks different sounds that mends broken hearts and gives hope to the lonely and the lost soul this is progression of music which literally pulls your heart strings and leaves you in a state of bliss.
Listen to there latest song Tonight
Parvaaz is a Bangalore-based rock band. It comprises Khalid Ahamed (vocals), Mir Kashif Iqbal (guitar), Fidel D'souza (bass) and Sachin Banandur (drums & percussions). The band was formed in early 2010 by Kashif, Khalid and Neil. After a different initial line-up, the band finally went four pieces when Sachin Banandur joined in November 2010. The band recently released their debut EP, "Baran" and are currently on tour promoting it.
Listen to their EP Baran here
In other three categories: Metal, Electronica & Folk fusion- Death By Fungi bagged Best Metal Artist by popular choice and Tangents and The Minerva Conduct were on a tie and took home Best Metal Artist by Jury's choice beating the legendary bands like Demonic Resurrection, Godless, Chaos among others.
Death By Fungi is a hardcore band from Bombay, India. Listen to them here.
Tangents is a progressive metal band from Bangalore. Started out with six optimistic members is now half that number featuring twice the confusion. Listen to them here.
The Minerva Conduct Initiated as a brainchild/studio project of Prateek Rajagopal (Gutslit/Reptilian Death), he was soon joined by Ashwin Shriyan (Demonic Resurrection/Reptilian Death) and Nishith Hegde (Demonic Resurrection/Albatross/Reptilian Death) on bass and guitar duties respectively. After a long search for a drummer, they took upon Viru Kaith (Scribe/Demonic Resurrection) to perform as a live member.


With a combination of modern progressive and heavy metal riffs, synths and clean guitars, drum and bass grooves, death metal sections, tasty leads, and melodic choruses; the band is all set to spread their unique sound to the masses. The band is now a 3-piece progressive metal outfit from Mumbai, India. Listen to them here
In electronica Skobra and Pash won Best Electronica Artist by people's choice while ViceVersa bagged Best Electronica Artist by Jury's choice.
Vasu Dixit took home Best Folk Fusion Artist by jury's award and Pragnya Wakhlu was awarded with Best Folk Fusion Artist by people's award.
RCFA also honoured artists in Indie scene with subsidiary awards. Stevie won the Best Young Indie Artist award, while Ankur Tewari and Prateek Kuhad honoured with Best Indie Collaboration for Dil Beparwah. Swarathma, Bengaluru folk rockers took home the Best Video for their song "Beta Sweater Pehno" and Best Album Art to New Delhi's Menwhopause while REProduce Artists' Rana Ghose bagged the IndieGenius Person of the Year award for his work on the Listening Room series of shows. Apart from awarding credible compositions, RCFA also applauds notable non-music contributions to the field of independent music.