Delhi-based percussionist Sahil Mendiratta, a.k.a. Inspector Maal; electronica artist Ashhar Farooqui of Teddy Boy Kill; and guitarist Punit Jantu recently formed an electro-pop coalition called IJA. The trio recently worked on the soundtrack for Dibakar Banerjee's, Detective Byomkesh Bakshy!,and released their debut EP, VitaAmin Sex, today.   
(Artwork by Damini Parashar)
One half of Delhi-based elecrtonic act Teddy Boy Kill – Toymob a.k.a. Ashhar Farooqui – recently collaborated with Delhi-based percussionist Sahil Mendiratta, better known as Inspector Maal, and Uttarakhand-based guitarist Punit Jantu, to create electro-pop outfit IJA. The trio have just released their debut four-track EP titled VitaAmin Sex, with much stress on the double 'a' as Sahil tells us. "It is meant to be quirky," Sahil tells us, "And, not exactly cinematic, but the record has these scenarios playing out. At least with this EP. It's more like sex music or acid music, after some heavy halucinogens when you're riding down." Although IJA would refer to the record as pop, the members don't argue with naming a number of influences gone into the record; from lounge to bass heavy hip hop. "We're not trying to stick to any genres, but you'll find a lot of influences in it. We're kind of working on that, we're heavily influnced by this band called Shabazz Palaces; its quite quirky. We're big fans of Kanti Shah also; it blew our minds." Guitarist Punit Jantu tells us, "VitaAmin Sex originally came about because of the story of Molly and Nunni, characters that were built around certain people that we knew due to certain coincidences. So, this story sort of intertwined with the whole songwriting process and the music, which are pretty risque by themselves."
VitaAmin Sex happens to be a stripped down version of the music the trio had worked on when they first started jamming. The band left behind the heavy industrial sound with live drums and loud guitars, for a toned down and groovier vibe, keeping in mind the audiences and a live setup. "I used to listen to a lot of Mars Volta and Tool," Sahil tells us, "And, I've played with bands that like to jam and be more indulgent with their instruments. But, here things were different. It started like that, but then we decided to take it easy. So, from all of those complex structures and prog, rock and roll vibe, it started boiling down to simple beats, hooks, and choruses. Just simplifying that shit."
The EP was recorded in bits between a studio in Uttarakhand, where Ashhar lives, and Sahil's studio in Delhi – Inspector Maal studios. "It was great man," Sahil tells us, "I've never worked in this format before. With Ashhar, I feel that I haven't worked with anyone who's as open minded as he is. And, he's always like, 'Just do your thing'. If you've seen what Ashhar has been doing since Envision; I was always a big fan of Envision from my shool days, it blew my mind. I'd always been a big fan. So, it was perfect for me. I've never worked with a band where I was allowed to express myself so freely." Apart from having recently collaborated with film maker Dibakar Banerjee for his upcoming movie, Detective Byomkesh Bakshy, for which the band layed down the villain's theme, IJA are looking forward to releasing a music video directed by Neha Dixit in the next few days. The band also plans on releasing a second EP soon and taking the act live by August this year. "The idea right now is to get the music out," Sahil tells us.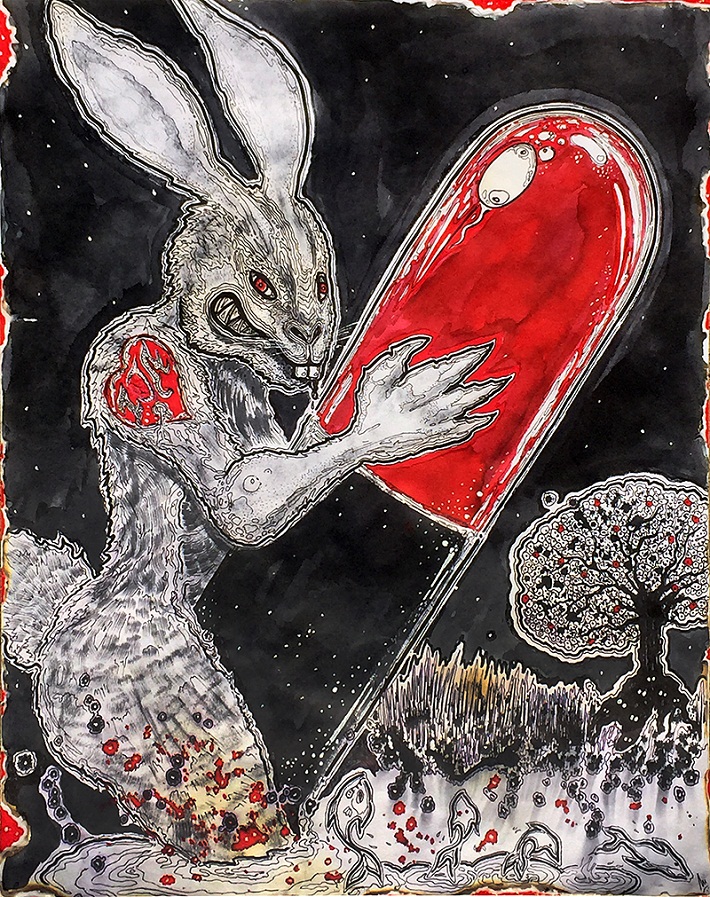 (Artwork by Ari Jayaprakash)
An excerpt from the story of VitaAmin Sex reads: "Ashhar, Sahil, and Punit, have a common friend called Molly. A fun loving girl who we've had great times with. A while ago we heard that she was kidnapped by an evil mastermind, Nunni. Molly's father is a member of the property mafia . He hired the three of us to go and get Molly back, and bring Nunni dead or alive. Its been a year now. We've tried and failed multiple times. But, we have learnt a lot about Nunni, he is a tough guy to find first of all. So right now, we're underground, devising plans and making some hooks to get people to join our force and get Molly back. Nunni is pure evil, we need to be wise about every step. Aur aise ye GANGWAAR shuru hui, aur abhi, samay hai NUNNIRAAJ ka!" - IJA
Stream VitaAmin Sex by IJA on SoundCloud here.