Band announce farewell gig at Mumbai's Blue Frog on January 19.
After six years and two albums with Demonic Resurrection, guitarist Daniel Kenneth Rego has announced that he's parting ways with the band. Daniel, who joined the band when he was 18, cited changing musical interests and professional priorities as the reason for his decision. "I've had a wonderful six years as a member of Demonic Resurrection, and Sahil, Mephisto, Virendra, Ashwin and Husain remain my closest friends. I've had some of the most memorable times of my life on tour with these guys, and visited places and met idols I'd never dreamt I'd have the opportunity to," he says.
"Unfortunately, all musicians have their own personal journey as they evolve, and for a while now, mine has steered me away from the sound that defines Demonic Resurrection. I no longer feel a strong enough emotional or intellectual connection to this music to justify my place in a band that needs and deserves a 100% conviction in its work. The time has come for me to focus on musical styles and avenues that I now feel more attuned to, and for Demonic Resurrection to welcome on board new blood and forge ahead."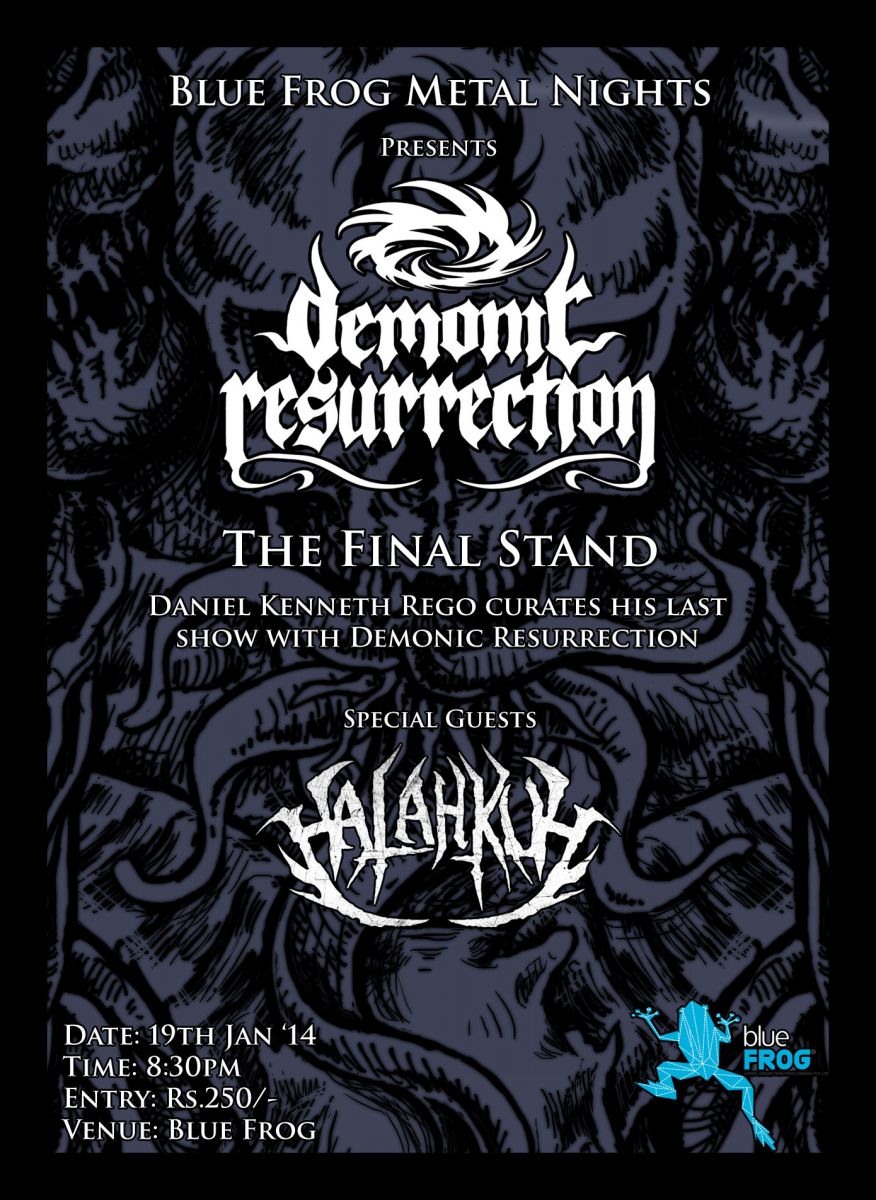 Daniel has played on The Return to Darkness (2009) and on Demonic Resurrection's forthcoming fourth full-length album, the name and release date of which is still to be announced.
Demonic Resurrection founder and frontman Sahil 'The Demonstealer' Makhija called Daniel's exit "a major blow" for the band. "Daniel had become an integral part of the band's sound and, more importantly, DR has always been like a family. We've all been together for five years and longer, we've grown very close as friends and bandmates and that dynamic has been reflected in the band and its evolution. We'll lose some of that, now that Daniel's leaving, which sucks. But over the years, lineup changes have become such a regular part of DR's story that it's almost second nature to us, so we'll just pick up the pieces and move on.
The band are yet to announce a replacement for Daniel. "Right now, we don't know," says Sahil Makhija. "We'll probably hold auditions and make an announcement once we finalise a guitarist."
Daniel, in turn, says his exploration of music has taken him beyond the confines of metal and he's looking to explore other musical possibilities. "I will soon announce several of my current musical endeavours, with music set to be released very soon, while also furthering my career as a sessions musician. I'd like to thank everyone who's supported Demonic Resurrection and been a fan, and I assure you that the band is only onto greater things."
The band will play a farewell show with Daniel on the January 19 at Blue Frog, Mumbai. Joining them will be Pune death/thrash band Halahkuh, while young bands will be invited to send in demos to play an opening slot at the show.