RSJ STAFF
Last year the guys from Menwhopause visited a place called Ziro, in Arunachal Pradesh. This year, in September, they are programming and organising the Ziro Festival of Music and like most endeavors of the band, it promises to be more than just about music. "This festival is more about a confluence of cultures rather than imposing a strange one in a little town. It's not just about outsiders knowing more about Ziro, it's also about the locals understanding the outsiders better" says Anup, guitar guy for Menwhopause and one of the key organizers of the festival.
Ziro is located about 150 kms from Guwahati and the local community, the Apatanis are being actively engaged with the festival, with people opening up their homes to artists for home-stays. Promoter Bobby Hano filled us in with the details. "The festival area is flanked by forests on two sides and paddy field on one. So it's a beautiful setting and work is now in full swing. All our structures - the stalls, the Ziro cafe, the stage - everything is bamboo', he explains. We are particularly stoked about the fact that the locally brewed alcohol will be served in abundance and is thus, an integral part of the festival.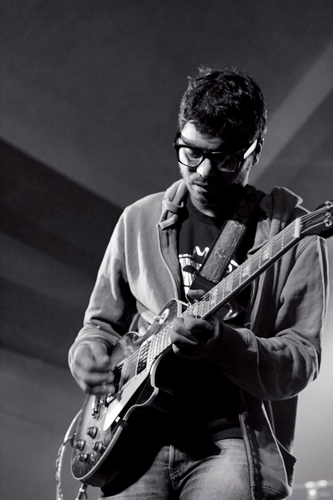 Anup also informs us that this is "not a corporate event". Thus, there are no sponsor names or obligations. Which also means that if you like your ale branded, you should probably just buy it from Guwahati. But you know what? Drop that city-swag and just blend in, cos there's plenty to this, as explained by Anup. "We have around 20 acts playing over three days on a single stage. Apart from that there is a cafe area where people can lounge and do their own thing with a small stage where you can jam and record. Then there is a small flea market featuring ethnicities from all over the North-East displaying their work and food. Many of them will also have their locally brewed alcohol, which is my favorite part! Apart from that, attendees are encouraged to go hiking, cycling and trekking in the neighboring areas. We will also have the Apatani tribe do small workshops like fishing or archery for the interested ones" he says.
Apart from the cultural vibes, a picturesque location and rice beer, the festival also boasts a multi genre line up as given below-
"We want our attendees to forget the big city rush and calm down in Ziro. Enjoy the rice beer and the music!" says Bobby while informing us that set-up is in full swing. The 3-day festival will begin on the 14th of September. For details regarding the money, the logistics and mosquito repellants log onto the festival website (www.zirofestival.com) and follow them on facebook for regular updates (http://www.facebook.com/zirofestival).