It's 2016 and if you couldn't tell, all the festivals around you are in the business of selling experiences. And that's not a bad thing at all. The second edition of Nariyal Paani, which took place in Alibaug last February, scales up to two days this time, taking place on January 23 and 24 at near Morapada village.
It's essentially music by the beach, camping, jamming and everything in between that makes a weekend getaway memorable. For everyone who'd want to make a festival just about the music, the line-up this year is even better, with everyone from singer-songwriter Prateek Kuhad to electronica artist Nicholson.
Running from noon until the evening, must-watch artists include The Ska Vengers, world/indipop act Achint, psychedelic rock band Begum, rapper Feyago jamming with UK beatboxer Bellatrix, electro pop act Laxmi Bomb and more.
Tickets range from Rs 2,200 for day passes to Rs 3,800 for a season pass. Under-21 season tickets are on sale for Rs 2,500.
Check out the full schedule below: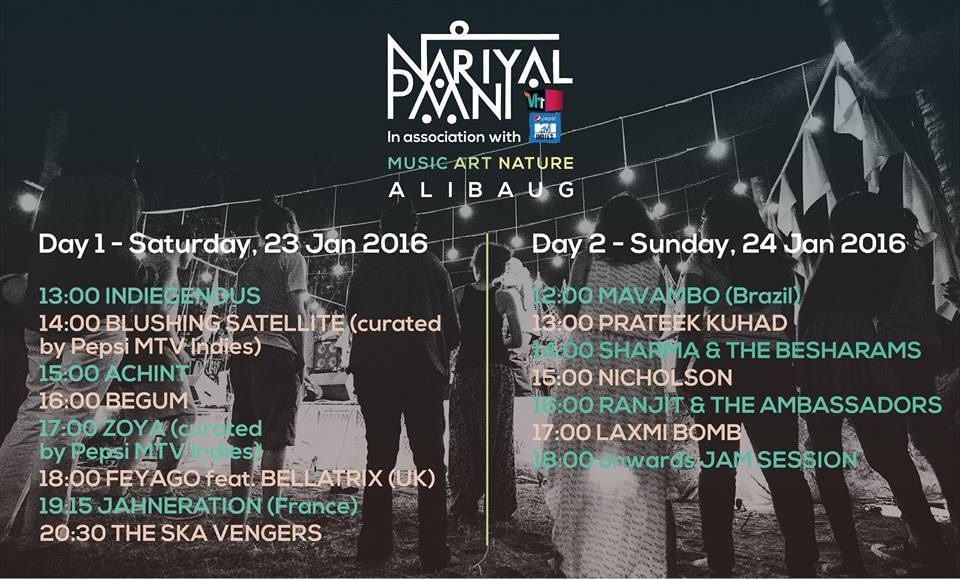 Nariyal Paani festival takes place on January 23 and 24 in Alibaug. Buy tickets on Insider. More details on their Facebook event page.