This… is an interview with one Mr.Pankaj Tak. For those of you who are already in one of the now many Whatsapp groups he runs, skip this intro and scroll down to the interview where we asked him about his venture's 'quirks and features'. Also, please do check out other groups like Some Good Gear, which also has free listings! But if you don't know what any of this means, here's a rundown.
As a publication that used to run our own forums, we absolutely remember how great it was to have a place where artists, fans and people in the scene could interact and talk about indie music. A few years back, Pankaj Tak started a group on WhatsApp just, simply called, 'Some Good Gigs'. As it turns out, a common ground for discourse, advertisement and general unity in Indian indie was just the thing so many of us needed. Now, it's a bunch of groups for shows, tickets and so much more. It's an operation spanning loads of cities across India (and even beyond of late), and it has become the place to meet people, find shows, and even air the occasional opinion or two. Want to find anyone or anything Indian indie these days? All you have to do is ask, and there's someone to help out.
There's something to analysing how this came to be (the pandemic, the obvious disconnect between creatives and the very industry they live in, and how SGG ended up being an organic answer to all of it), but it's probably better to allow Pankaj to have the floor and hear his story. So that's exactly what we did. This is a long read, but it's so worth it.
Tell us a bit about yourself; where you're from and how you got into the indie scene.
I'm based out of Mumbai and I have been attending gigs since 2007 (I must have been around 15). I knew as a teenager that music was something I wanted to pursue, but didn't know how to go about it. My limited knowledge about it, parental concerns about pursuing music and my love for art and design led me to explore architecture, and in 2016, I graduated from Mumbai University. My love for music only grew stronger over the years and in 2018 I moved from architecture to music completely. I released some stuff that year and from there, I've been involved with the scene in general, especially because I'm from Mumbai and there's so much going on musically and culturally. In short, all my effort and time is distributed between three areas – music, visual art (creating gig posters, song artwork, etc) and Some Good Gigs.
How did you survive the pandemic as far as work and such was concerned, considering everything was closed and so on?
I'm privileged and grateful that the pandemic did not affect my work and life as much. I was home making beats, exploring art, absorbing concerts on YouTube, listening to music and also working on growing SGG. I used the pandemic time to try and connect to my work a little deeper. During the pandemic, Some Good Gigs also became a very helpful and essential community space for people to get support from each other – mentally, professionally and otherwise. During this time, we felt the need and created a separate WhatsApp group called Some Good Support – where members were constantly helping each other find medicines, doctors, hospitals, etc. I'm eternally grateful to everyone who helped out in whatever capacity they could on the group during that time.
What was the initial idea for Some Good Gigs, and was it always called that? What's the story behind the name?
When I shifted to music in 2018, I wanted to attend live gigs more actively. I was attending house gigs, club gigs and meeting a lot of friends. I was in awe of everything and everyone who was involved in music. I especially felt a deep connection to live music like many of us do. I also had a desire to connect and meet with fellow musicians from the city. That led me to create a tiny WhatsApp group which I named Some Good Gigs. I added a bunch of my friends from the music scene and folks who were attending, organizing gigs. Since the intention was really simple – to use the group to share, discover and attend as many live gigs as we all could from the city, I believe it became a valuable space for a lot of different kinds of people from the music scene. More people started joining the groups and it organically grew. It continues to do so today.
The name just came to me. I had started another community group around the same time called Some Good Music – where the idea was to share music discoveries with each other and have conversations around your favourite artists. I never thought much of the name 'Some Good Gigs', but I liked how it sounded and how it represented my idea for starting a community for gig updates. Over the years, I'm grateful that the name has become such an appropriate and accommodating term to communicate everything I'm trying to do with this initiative. I'm also humbled that it's being referred to in the industry and the indie music scene.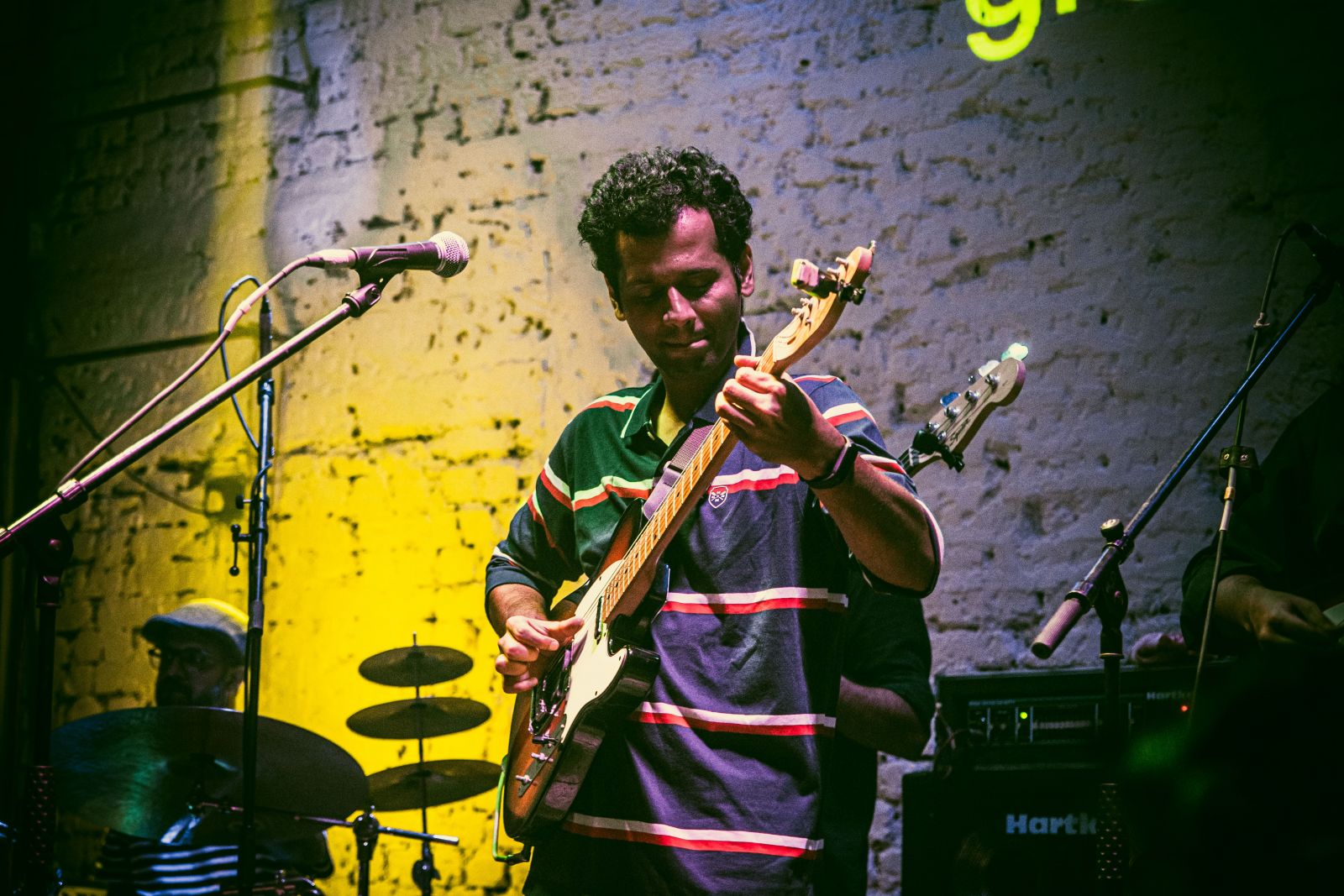 PC: Abhishek Gupta
In the very short time since you started it, there are now a bunch of different groups for cities, tickets and so much more. So that begs the obvious questions: how many phones do you have and what's your data plan?
LMAO. When the first WhatsApp group for Some Good Gigs was created on 14th August 2018 (we turn 5 soon!), we had people sharing about other city events as well (since many were also based out of other Indian cities). As the community on the group became bigger, I realised that there was potential to have groups for individual cities and replicate the same idea on other groups. This also helped me moderate since people in Mumbai didn't necessarily need gig updates about events in Bangalore or Delhi and vice versa. Hence the first group was designated for Mumbai and similar groups were created for other Indian cities. At one point we had around 30 + groups for Some Good Gigs (mostly India and a few international cities as well). We also have other interest - based community groups like Some Good Visual Artists, Some Good Gear, etc – each of them has a different intention but at the core intends to create a resourceful platform connecting people.
I am managing and running all the community groups via one phone. But I often feel the need to have another phone just to manage Some Good Gigs. My data plan is INR 800 for 3 months. Most of my work is done using WhatsApp web on my PC. It's not possible to run this just on a phone.
Very simply, why did you pick WhatsApp? Were there any other options?
WhatsApp is the only thing I knew and had for creating a community when I started. Since it's universally used, it became the most convenient way for people to join and be part of this. A while back, WhatsApp had a group limit of 256 members and we had almost reached full capacity on the Mumbai group. At that time a lot of friends suggested exploring Telegram, Discord, Instagram, Reddit, etc. I started a Telegram group for Some Good Gigs Mumbai, but the response I got from the community was very low. Most people didn't want to shift. Therefore, I just created another WhatsApp group for Mumbai. Over the years I'm happy that there have been developments for community features on WhatsApp.
I also feel Some Good Gigs works and has been able to expand in the way it has, because of the nature of WhatsApp. It connects people so easily, it's super helpful and convenient to have a chat, post a requirement, post a gig, share your music, ask for music requirements – and then have it reach 500+ members from your city (depending on the size of the WhatsApp community group for that city). There are very few digital spaces where people can connect with each other regarding work, collaborations, etc in this capacity. I am constantly moderating all the groups to ensure that the experience on the groups is professional, helpful and fun. I consider WhatsApp to be our primary medium and also have been exploring Instagram and the ways it can help our initiative.
Imagine you're also WhatsApp's CEO; what features would you add to make SGG more complete as an experience? Surely there are things that annoy you on an almost daily basis, considering the size of the operation…
WhatsApp has been actively developing their community features in the last 2 years. It's still at a very primitive stage but I'm hoping it will only get better.
Like we have pinned posts on Instagram that stay at the top of your profile, according to me something similar is needed on WhatsApp as well. This will especially be helpful for SGG in so many ways. If people are discussing something, we can have a text or image that will always stay at the top bar, or a gig happening that particular day that always stays on the top regardless of the discussions on the group. Imagine something like an ad banner on a website (which could possibly help us monetize gig ads, music release promotions and so on).
The management of multiple groups that can be part of one community is not very useful in its present state. It's a great area that the company needs to explore especially since there are so many micro communities that are running actively on WhatsApp these days.
I also feel the need for another feature that allows hierarchy when there are multiple admins in a group.
You're working on a full-fledged platform right now – any details on that?
It's been a long and fulfilling journey so far. I'm working on multiple things for SGG by trying to streamline some of these verticals like gig sharing & music amplification, website, possible live gigs in the future under SGG banner. At some point this may grow into an app as well. We will complete 5 years in August and I'm now exploring how I can monetize some of the services we offer. Monetizing is also important at this stage since it will help me sustain the initiative and grow it in more meaningful ways.
What are you currently doing music-wise? Any new releases we can expect?
At present I'm focused on my music project TAKTOOK. There are a lot of original compositions I have been playing for our live gigs and there are many new ones that I am writing as well. I intend to record some of these and release them next year, work towards playing live gigs and tour India towards the end of 2023. I'm also trying to focus on learning more music and guitar playing.
PC: Abhishek Gupta