The RSJ staff had a unanimous calling in listing down the festival of the year 2014, for 'Rearview 2014'. So, as we promised here is a review of the 2014 edition of the Ziro Festival of Music, topping off all other festivals with its music, decor, location, and rice beers. 
September 26, early in the morning, and long after the night's festivities are over; 'U' – let's just call him that – is lying prostrate on the grass, somewhere inside the periphery of the festival grounds. Approximately four kilometres away, his band-mates are pacing across their room, half-petrified and half-resigned to the thought of having lost their drummer to aliens, or even worse, the Chinese who lurk the borders of Arunachal. The non-availability of his phone is at the crux of everyone's private vortex of unimaginable fears, but 'U' is blissfully oblivious to his missing phone or his misplaced wallet. In fact, I'd like to imagine him with a faint smile across his lips, turning sides under the open sky, the prized trophy of a scavenger-hunt – that truly and firmly kicked off the proceedings at this year's Ziro Festival of Music – and a reminder of the protocol that defines a great rock n' roll party.
Up until then, the ride to the festival had been the defining narrative of ZFM '14 and while it definitely warrants a mention, I can statistically quote that the pressures of healthy living have probably killed more people than this seventeen hour ride from Guwahati to Ziro. In fact, this is a certified rock n' roll test if there was one. Having been on this bus twice, I have a theory that, if a musician were to, despite the concession of our comfort-zone oriented lifestyles, crib about the length of the journey more than 5 times, he or she is not cut out for the 'highly-glamourised' lifestyle of a band on the road. Practically though, one learns that the Kama-sutra can also be applied to sleep. All you need is some luggage, and after that whether it's you on top or the luggage, whether you're standing or curling up, doggie style, there's a whole new world of shut-eye, waiting to be discovered in the unlikeliest of positions.
And if the journey sounds like a deep-dive with just a lung-ful of air, arriving and settling down to the picturesque rolling greens is exactly like gulping down gallons of oxygen to the point of being a little high. "This is not for weekend warriors. It also really eliminates the wheat from the chaff, so to speak. You won't make the effort to take out 5-7 days from your life if the music or the vibe is not your scene," says Anup Kutty, co-organiser and one-fifth of Menwhopause. In between answering queries on his walkie-talkie and directing the rice beer to the farthest corners of his liver, he informs us that the audience has been growing with every edition; there are telling signs all around – onsite camping arrangements, a beer sponsor, people with pets and I even spotted a few flower-adorned headbands that, quite like Enrique Iglesias' love, is becoming impossible to escape. And yet, Ziro feels like a celebration of the fringe like none other. You don't go to Ziro to hear the same band you've heard all through the year, you don't go there for buckets or tubs or party-drug flavoured water. The ZFM experience lies in between the last drink of rice beer and one rice beer too many, it lies in between settling down on a sun-kissed slope to hear an afternoon set and missing your bus back because drunk-singing bollywood songs with locals sounded like a better after-party, and it definitely touched a peak when TajdarJunaid's balm-like songs ensconced the valley in it's soothing charm.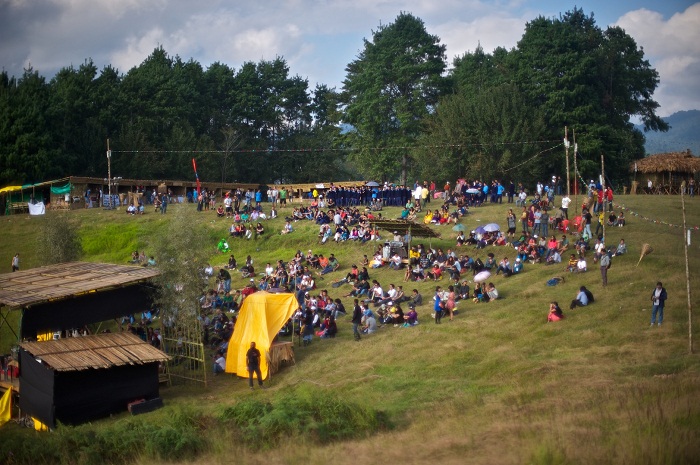 Photo Courtesy Shiv Ahuja
Each day, the performances got louder as time rolled on and despite some incendiary evening sets – Still Dirty, Ganesh Talkies, and The Superfuzz being highlights – it's the afternoon sets at the Danyii Stage that truly captured the essence of the festival. In between finding a spot under the sun and accumulating as many rice beer bottles as one's armpits could accommodate, I heard the Sajda Sisters move a certain members of the audience to tears with their folk-renditions, their voices pricking the surface of your skin, making you sit up and take notice. Neel Adhikari from Kolkata played a gentle, prodding set that incorporated all its rough edges and improvisational quirks into a compelling showcase of his songwriting skills and Suman Sridhar's spoken word set with her looper, was somewhere in-between strange and surreal, although this writer is just one of many who didn't "get it". The Danyii stage also brought out a far better performance by the Omak Komut Collective whose performance a day earlier had been quite lukewarm, and a smaller, more intimate setting seemed to bring out the best in this folk/fusion outfit whose vocal hooks and funk basslinesare the kind of takeaways that immediately lunge at you. The Danyii stage also threw up the two interesting discoveries of the festival – Oh,Rocket and Feyago (who collaborated with Omak Komut and later, played a set at the mainstage). The former, an indie/electronic duo from Kolkata might just be the band to watch out for in 2015. Their dreamy/dance-pop influenced soundscapes, and wistful vocal delivery relied on a four by floor spine and guitar nods to alt-rock to create a template that was a throwback to the likes of The Wombats, and with a tighter live act, they could actually end up being a distinct voice in the Indian indie space. Feyago, on the other hand was a far more convincing live act, but while he can drop rhymes and definitely hold a crowd, he will have to step outside the shadow of his idols and start producing his own beats. His skills are wasted on commercial hip-hop tunes that he re-packages as a backing track to his own verses. A winner at the VH1 awards, Feyago is a bit of a star in the North-East, having played more than 100 club gigs in less than a year and you wouldn't suspect why once you hear him rapping over a Jay-Z or Kanye backing track. But that's also exactly what he needs to stop doing.
The mainstage performances were louder, flashier, and every bit of the spectacle that the stage deserved. There were impassioned declarations of love for Saba and Suyasha (of Madboy/Mink and Ganesh Talkies, respectively), tears during the Laxmi Bomb set and a "You actually wrote those songs and sang? You look like you can't do anything," from a smitten fan to Sanchal (Superfuzz).Your Chin and Still Dirty were other sets during which there was a noticeable decline in rice beer sales, and Tankbund played one that lacked any guitars, and yet, when their dual vocal harmonies and rhythm section locked in with the sampled claps and kicks from Ritwik's pads, you wished there was a sunset available on request. And still, none of these performances or my limited skills of descriptions will be of any justice to a festival that draws you out of your comfort zone and then seduces you with it's charm. Like any destination, prepare to expect the unexpected. Your journey might take longer than you expected; heck, we had to take an unscheduled journey break because our drivers were under-slept and during that hour, every call by a cricket that pierced the rhythm section of surrounding snores, sounded like a countdown to some grave threat to our lives. The audiences are not easy to please; one of the artists who was DJing at the after-party was confronted by a non-impressed member of the audience who drew out his sword with "Aye, don't play that beat", and suddenly the future of the night depended upon our man in more ways than he'd expected. And yet, this is India's finest festival. The music is curated extremely well to the setting and with each year, the organizers are growing more confident of this festival evolving into a melting pot of sounds and cultures. As an oft quoted poet has already testified, "Beyond our ideas of hand-hearts and bass drops, there lies ZFM. I will see you there. X."
View a photo gallery of the Ziro Festival of Music 2014 here.