Back in 2018, when Whale In The Pond frontman Sourjyo Sinha organized the very first edition of "Parklife", little did he know that an intimate initiative arranged in the living room of his old flat would evolve into something much bigger – one that would go on to bring about a change in the gigging scene in Kolkata. What started as a small gig with only a few friends and acquaintances in the audience, soon found its place in a larger setting, a 2-day rooftop gig featuring 13 artists from across the city. Eventually, Parklife ended up as a monthly series of gigs, and after breaking free from the pandemic's maw, they are still going strong.
"We started this gig back at my living room in Jodhpur Park where 20-30 people would come in every month and we would showcase 5-6 artists. It would be a stripped down, no-equipment set which later grew into a 2-day festival," said Sourjyo Sinha. "We re-started Parklife last December… the first one after the pandemic which was a ticketed event, something we had not done previously. It showed us where the music scene of the city was headed, because after the pandemic people when more inclined to pay for a ticket and come and we were selling out with local artists… not the popular artists but the up-and-coming ones," he added.
The young musician was prompted by the overabundance of cover music gigs in the city of Kolkata to start this initiative that would provide a platform for independent artists to showcase their original music. "At the time and even now, Kolkata hosts a lot of gigs which are mostly cover gigs… all the lounges and bars encourage those. But there has to be space for original music which is few and far between," he said.
When I arrived at the grounds of Birla Academy of Arts and Culture on 16th December, the gig had already kicked off with the first act, the duo Aabol Taabol performing their set. Strewn with a cornucopia of bright lights, the venue was well-ornamented, and seating arrangements had been made for the guests to relax and enjoy the performances.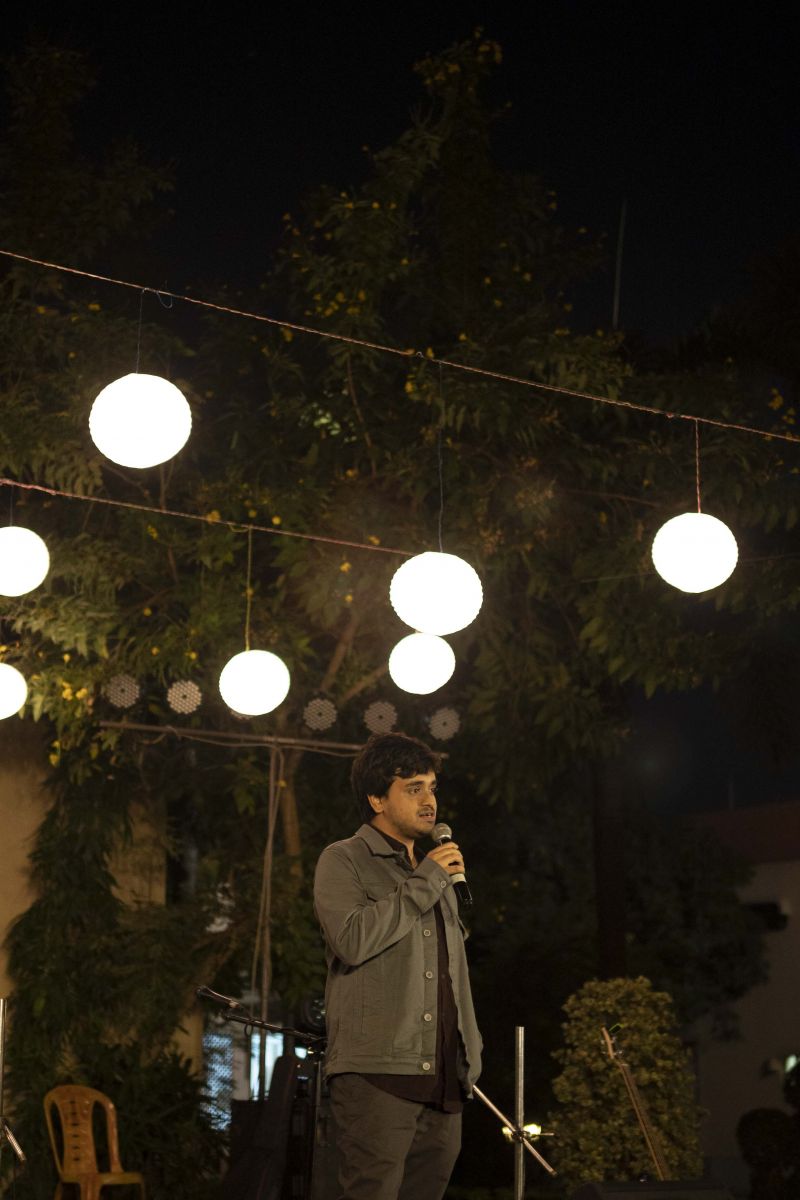 "We did our work this year and in the end, we got rewarded with this opportunity of being hosted by the Birla Academy of Arts and Culture in association with Whale In The Pond. Dana Roy [an acquaintance], who works with one of the Birla Schools pitched the idea to them, 'if they have a lawn lying around, why not use it?' So, that's how it came to be," he added.
Struck by the chill of early December of 2022, I found myself amidst the musical camaraderie of the Parklife attendees, enthralled not only by the performances but also by how well put-together it all seemed. Several people had turned up to the open-air gig pouring their undivided attention to the artists performing their music.
"The three of us [referring to the band] or anyone associated with us follows the music scene and observe the kind of work people are doing in the scene… the music people are putting out… we listen to their songs… we have a following in place. We have a rolodex of musicians as well who do original songs and perform regularly so whenever an opportunity comes up to host something like this, we already have a set list of bands we can ask," explained Sinha.
Referring to that day's event which they appropriately monikered 'Parklife on the Lawns', the Whale In The Pond frontman also talked about their planning strategy for it. "If you noticed, we had a more thematic kind of situation today so we can get bands in who are more similar in sound and then have a themed event."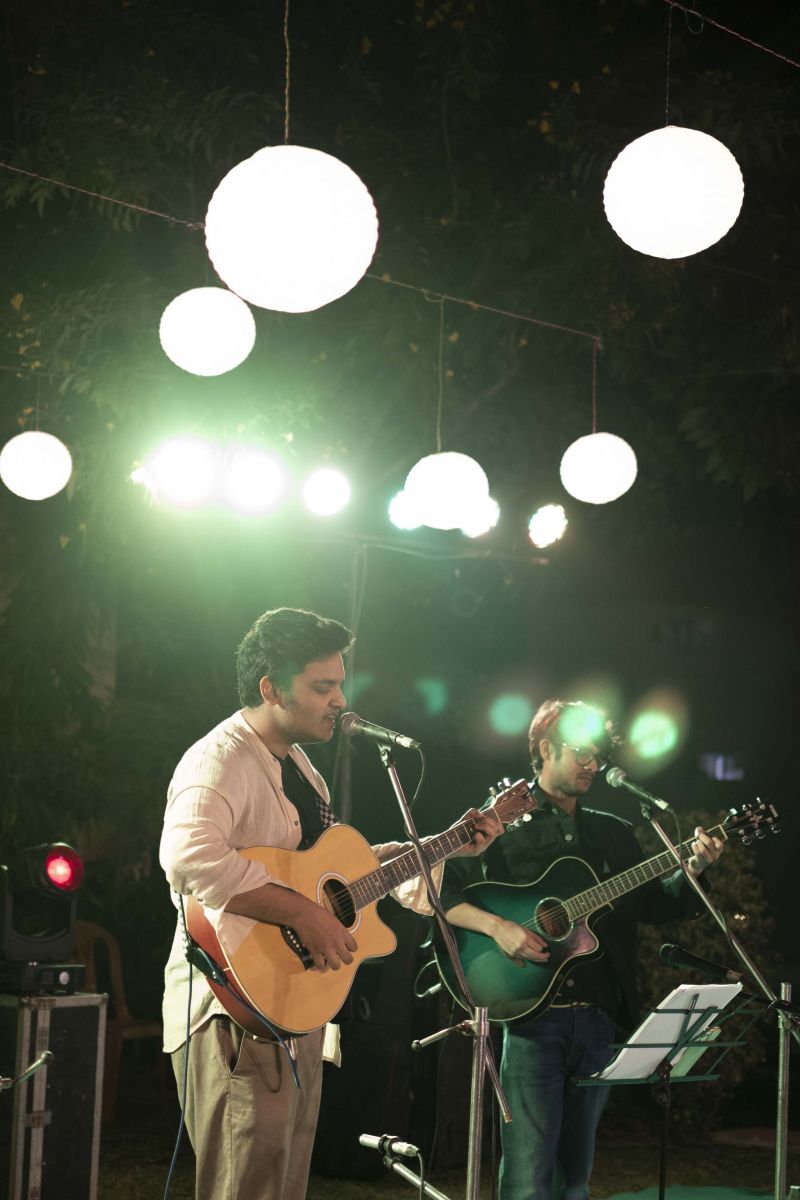 Aabol Tabol had an eclectic roster of mostly vernacular originals and covers in their setlist. Although the set-up was minimal, kind of an open-mic thing, the duo managed to captivate the audience with their performance earning quite a few cheers from them. The gig had also lined up Bengali band Borno Anonyo fronted by singer and activist Satyaki Banerjee, who brought in a flurry of revolutionary music in Bangla to their set prompting many from the audience to join them in their brio. Their set was electrifying, with passionate, soul-stirring vocals from Satyaki Banerjee and Nabamita Das cushioned in a bed of scintillating instrumentals from percussionist Gaurab "Gaboo" Chatterjee, violinist Dibyokamal Mitra, bassist Dwaipayan Dasgupta and guitarists Rajarshi Ghosh and Alex Bose.
"All the sound vendors and the decorators have worked with us in the past, so it is only a matter of getting them all together and working under a budget," commented Sinha. "We usually share the work among people and friends we work with so that takes a lot of pressure off of us," chimed in Sagnik Samaddar, the band's keyboardist and also a member of the organizing team.
"Even for this one… the band knows the sound engineer who knows the sound vendor because they work together. So, it works out well. The artwork for the gig poster was also made by our friend Sourish Dutta Mustafi and he works with us all the time so he is always in the loop," added Sinha.
And of course, the biggest challenge with arranging a consistent monthly gig lies with the promotional aspect and gathering an audience. Although Sinha owed the day's crowd (a total number of 250) to the open-to-all strategy, he claimed that usually, it's a little difficult to have people attending in those numbers, especially when it is a ticketed event.
The latest edition of Parklife titled "Parklife Wintersun" took place on 26th January at The Red Bari, an old heritage building-turned-studio and coffee shop in the city. Commenting on their rather outlandish choice of venue, Sinha said, "I enjoy finding old heritage buildings and weird locations and then making it work. It's more of an immersive experience when you are, say for example, on the banks of the Hooghly and it's a full-moon night when it's windy. I prefer that."