When you think about music-related media that comes out of India, podcasting isn't the first thing that comes to mind. Yes, we have had long, time-honoured music podcasts for quite a few years now, but for some reason, they don't exist in the general public conversation as much as they should. As it turns out, the proliferation of podcasts from every third standup comedian and influencer on this planet has sort of glossed over the fact that it is a medium that is amazingly versatile when you get to it. There's a niche for everything, and it's a way to find detailed, interesting conversations about things you like.
Serialized fiction? Sure! Meditations on modern-day mass-market food production? Duh. Conversations about lesser-known 1980s TV movies? Check. Human-forward interactions with legendary musicians and producer of Western music of the last 3-4 decades? That one would be the excellent 'Stalwarts Of Music', which is hosted by Bangalore-based Aditya Veera, who is also a musician (some of you from the indie circuit will know him from his band 'Thayirsadam Blues'.
We're not going to write down the incredible list of musicians he's spoken to, nor are we going to talk about his process and his influences and his gear.
That's what the entirety of the below conversation we had with him is for.
To begin with, what was your musical upbringing like?
I was born in Kochi, and grew up in more than 6 cities… we are a very small family and my dad had a transferable job. So we kept shuttling between cities. We tried living in Kochi, Bangalore, Chennai, Kolkata and more.
My first musical memory is of a great musician called Harry Belafonte – my introduction was through a song called the Banana Boat Song (interviewer's note: that's Day-O, the classic tune) that I would listen to on my grandfather's little Panasonic tape-recorder; he had spent time in the States and was exposed to people like Belafonte. My dad exposed me to lots of classic rock and pop-rock, say Hall And Oates… also some jazz like Miles Davis, he had lots of cassettes.
My earliest introduction to music out of India was through this collection of Shakti cassettes, and I couldn't really comprehend it then, you know, maestros like Zakir bhai and John Mclaughlin. Of course, there was lots of commercial music too. I used to listen to Kenny G, Yanni, classics like Floyd or Scorpions. During my junior college in Bangalore, I wanted to try singing, so I participated in this Battle of the Bands event at Palace Grounds, which was a lot of fun! That was my intro to thrash and metal, and I was listening to a lot of it at the time. I could not make it to the Metallica concert, since I had exams at the time… there were even homegrown bands like Eccentric Pendulum. It was a hell of a time.
So you have been involved with music for a while, what drew you to podcasting? Was it the big podcast boom of the pandemic or was it more serialized semi-fiction podcasts, or was it something else entirely?
So one part of the story I haven't spoken about yet is that I'm a coder. I used to work for KPMG and I now work for PWC as an Oracle Consultant. I love music as much as tech, and in 2018, when I relocated to Bangalore, I couldn't play live much because of my work. But I knew lots of people in the scene, so I wanted to get into artist management and try and help those doing music full-time. So I started managing this band Lal And The People from Pune; more followed, like Groovemeister out of Bangalore and this band Kelvikkuri. In 2020, none of us could meet each other, so I thought it would be a good idea to reach out to people outside India, and by November of that year, I was building a database of people abroad and what exactly they did with respect to artists and management.
For example, there is Sony, Universal and more; there's also something like Jensen Communications that manages artists like Santana. My first podcast was sort of an IG live (which was a format back then), and I spoke to Marc Urselli (interview note: Google his work and be appropriately shocked), who has worked with so many famous artists and has won multiple Grammys… things kicked off from there.
You have interviewed so many renowned people, and surely you've had 'milestones'. These change – once you've done a podcast with someone you've been trying to speak with for a long time, you look forward to the next guest... So at this point, do you have a dream guest you haven't spoken with yet, and why?
With respect to milestones… If you have listened to the podcast, it's to help explore the pain and processes of the artists, from motivation to the change of outlook since their era. It's also not totally music-centric; it's a bit more generic, ranging from topics with spirituality to more technical musical ideas. My aim here is to reach both musical enthusiasts as well as introduce people to their musical heroes they might not even know of. For example, I interviewed David Paich, the founder of Toto, and what a lot of people know is that he was a big part of Michael Jackson's Thriller, or the hit song Africa.
A great podcast was with Mark Lettieri (of Snarky Puppy), who then led me to Michael League… by 2021 things really took off. I interviewed a bunch of people, like Robben Ford (interviewer's note to listen to his stuff and read up) and Doyle Bramhall 2, who video-called me! He has interesting ideas of Indian spirituality and taking it to America, and that episode was great too (he even named his daughter 'India' from his love for this country). Then I got to talk to Nathan East, which was wild. Following that, I got to talk to Joe Satriani who was putting out an album at the time, and… that was Season 1.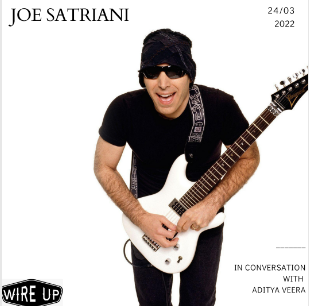 In Season 2, I started speaking with our Indian legends too, since I was a bit more prepared. I had a team at this point - funding, producer, designers and so on. Now I believe we're the only podcast doing festivals (Mahindra Blues, Oddball and more), and of course great Indian musicians. Among others, I did one with Tony Das and Richie Kotzen. Tony is a huge fan of Richie, and he spoke about his custom guitar that was made in Bangalore. I also did one the most cerebral episodes I've done with Gary Husband and Amyt Dutta – this is opening up an avenue for more Indian artists to be on.
These moments, I feel, have opened doors for many artists to involve themselves with projects happening in India and vice versa. The other day, I spoke with Danilo Perez, who has played with many a jazz great and is the director of the Berklee Jazz Institute program and runs the Panama International Jazz Festival. I hope to do a podcast for the Panama International Jazz Festival and represent artists with Indian disciplines at the festival. There's more, of course – I spoke to Mohini Dey and Paul Gilbert, which was a conversation filled with great camaraderie and humour (Paul Gilbert spoke about and demonstrated some weird gear like liquid tape, his drill prop for example); there's a whole wealth of stories there.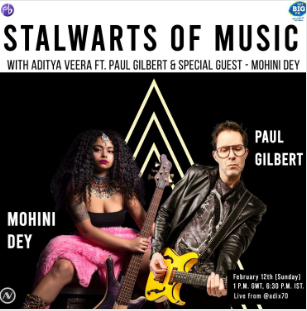 There's something worth being asked about podcasting in general. Podcasting is a relatively new medium as far as audio delivery goes… These days there's quite a lot of actual discourse about it (the same way people discuss guitars, almost). For example, what's your favourite podcast microphone? The Shure SM-7B is the de facto one you see everywhere, but what opinion do you have on it?
For me, the SM-7B does work the best for reception and performance. For live interviews, I use a Rode Wireless Go2 and a Lavalier mic (2 inputs), which does work well for that application…
In fact, given you've had a background in music, how do you think that has informed you with respect to how to set up a good podcast sound?
Of course! My producer Yashique Chalil is actually a Master's student in Edinburgh for Sound Design, and he spent time teaching me about good podcast setups, be it IG Live, Youtube, Zoom, OBS… he takes most decisions in that field, and he always helps me get the best quality for an episode.
Irrespective of the format, people do enjoy good production and a high quality of audio and video, and I feel like it's all set at this point.
Speaking of video, many Youtube podcasts have Clip channels where they capture short moments. There are people who think they break the flow of a good conversation, and there are those who like short-form content. Which side would you fall on?
I actually like making sure there is content for both audiences… I leave a full-length livestream on YouTube for the former, and I have Libinth who helps me with subtitles, artwork and more. These end up as Reels, and we do multiple languages and edits. So those work for fans who enjoy moments that appeal to them as being shorter. The podcast is for any age group and any platform.
Sometimes, podcasts are quite like a gig, where you get to watch what you want to, or experience the whole thing. Another commonality is nervousness and stage fright; have you ever had 'podcast fright' when you've been about to speak to someone you greatly admire and respect?
It took me a while to get past stage fright, and I've definitely had these fanboy moments during podcasts. During my interview with Robben Ford, it was a normal conversation. I had sort of planned how to navigate the ideas of the interview and have a structure. But it eventually became just a normal conversation, and I did a lot better with that. I remember asking him what he wanted to be remembered as and he replied with "A good human being", and that just made me want to speak my heart out and just have the conversation.
By the way, another fanboy moment about Anil Prasad! So, the person who invested in my podcast, (Sudhir Pai, who runs Perpetualbuzz Experiences) gave me a book of his (Innerviews), and he is one of my journalistic idols. I connected with him last year telling him about how his ideas are being carried forward, which was another incredible moment.