Kolkata has always been a proud host to its exuberant metal community ever since musicians started playing this extreme form of music at college fests and band competitions in the early 2000s. But times have changed since then; the same metal-lovers started coming together to organize gigs that had bands from the city's metal scene and beyond gather together at one place to belt out some of the hardest-hitting tracks of the genre.
Although the pandemic put a halt to gigs and concerts for two consecutive years, these metalheads refused to back out and eventually resumed their gigging activities ever since the start of this year. With multiple gigs being organized throughout the city once again, the metal scene of Kolkata has revived itself and is back again better than ever.
On the 13th and 14th of August, I found myself trotting through the corridors of 35 Bar and Lounge, a pub and makeshift music venue situated in the basement of a moderately popular hotel in the city. Metamorphosis Vol. 1, a metal show put together by enthusiastic musicians and metalheads commenced with a blast on the evening of August 13th. The two-day event had lined up some popular acts from the city; as well as two of the most renowned homegrown metal bands as the headliners of each day – the mighty What Escapes Me and Chronic Xorn.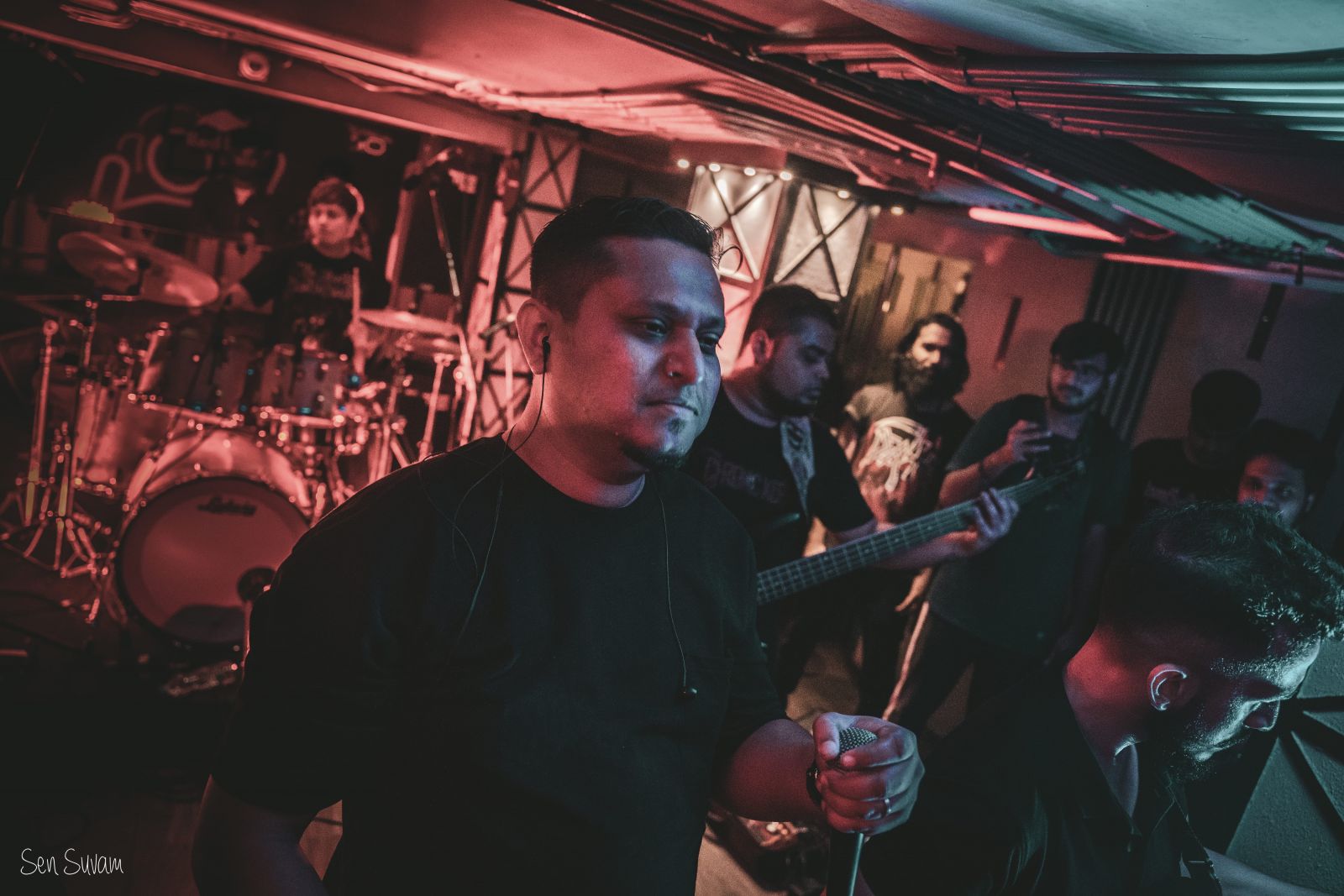 The event was an ensemble of bands from multiple genres, executing itself smoothly throughout its 2-day span. From making sure the performers could comfortably carry out soundchecks to ensuring high-quality sound production, the gig's organizers, The Headbanger Diaries, had their priorities in check. Although there were a few issues with the sound on the second day, it was quickly taken care of by the sound team who left no stones unturned in making sure that the bands effortlessly carry out their sets.
"We have a lot of expectations from this gig!" exclaimed Yajnavalkya when we caught them before the gig. "A lot of new people are going to hear our sound. A lot of young generation people are going to hear our sound. A lot of old generation of people are going to hear our sound…. Who are damn excited to come to this show. We have an eclectic group of audience," they added.
Amidst the clattering of glasses and the dronish chit-chatting of the fans present there, the gig finally opened with progressive-metal act 13th Notion taking the crowd by a storm; followed by electrifying sets from heavy metal artists Mustang and Stimulator. Yajnavalkya and Universe in a Crayon brought about a much-needed change of atmosphere with their one-of-a-kind rock-oriented sounds. Whereas, Tomb of Lucifer's blackened death-metal approach brought about hardcore and sinister vibes to the show.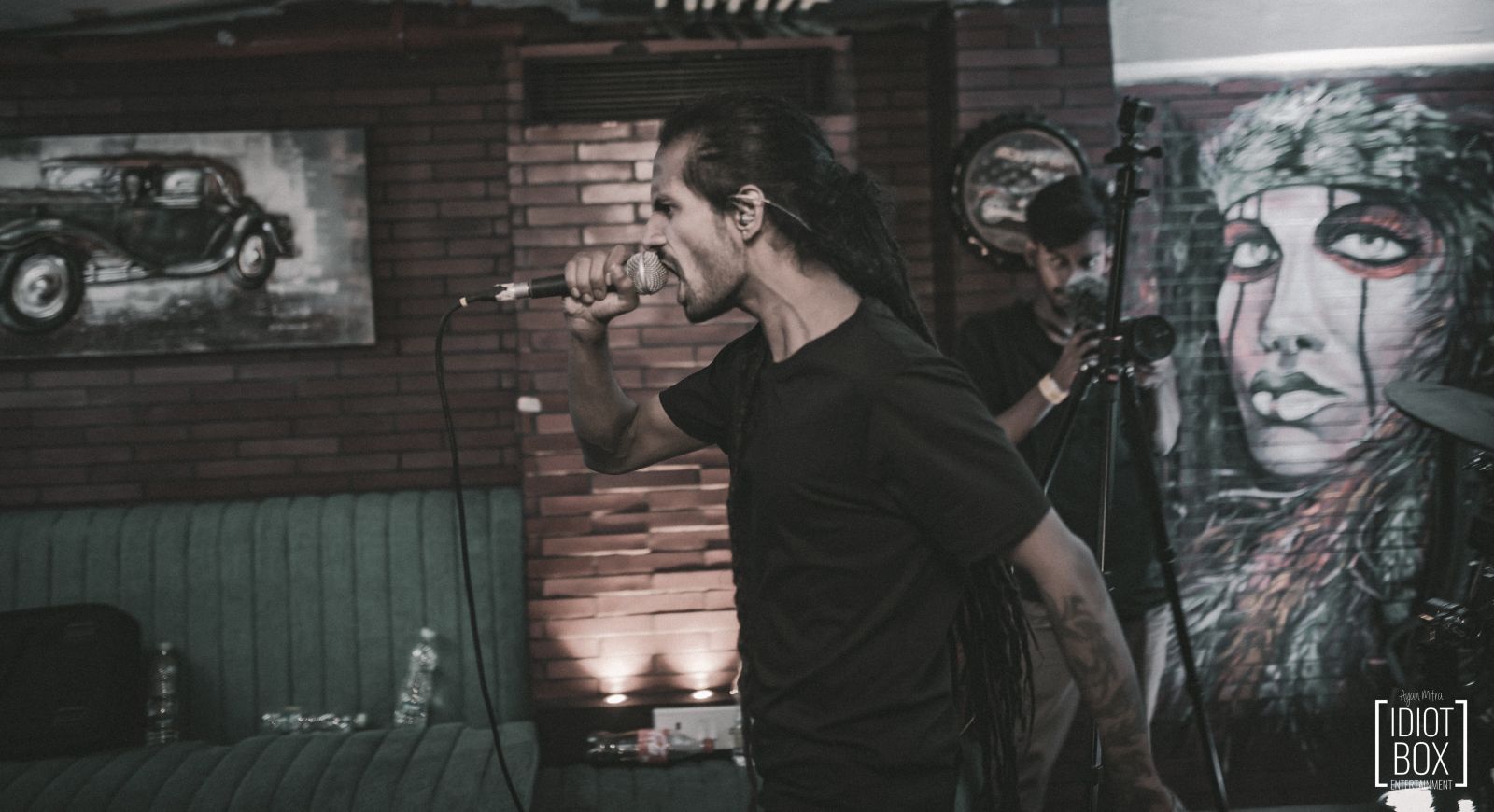 Finally, it was time for the main act of the night, What Escapes Me, to take the stage. The band who was performing for the first time in two years that day, brought in out-of-this-world energy, making it known to everyone present in the room, their indomitable spirit and glory in the scene. They brought down the curtains on day one, rendering the fans high on adrenaline and emotions.
"All these kids, they have been trying so hard to make the scene move, to keep the shows happening, kudos to them! They are doing great. They are kind of sticking the name of metal up on India's map"
- Chronic Xorn
"A lot of promising bands have come up. Right now, a lot of bands are getting technically more adept at what they are doing and so much access to so much YouTube and online which was almost non-existent in our time. They are incorporating all those international soundscapes into their music. So that way it [the scene] has advanced in many ways," claims What Escapes Me, who were all pumped up before their set. "Back when we started there was a lot of passion because metal was a new genre. Anything new in India gets adapted very fast but it does not last as long. So, anything that lasts that long is worth it," they added.
The gig resumed once again on the second and final day, bringing with it another set of vibrant performances from bands who have been active in the Kolkata local music scene in the past decade. We also had a few relatively new artists who have joined this circuit with their youthful stints in the scene. Moving in Circlez, an experimental rock band opened for the night throwing the audience into a trance with their energetic set; followed by hardcore-punk act Blakhole bringing an old-school sound to the game. Heavy-metal acts Radionuclides and Abhishek Dasgupta ADG Project kicked the audience into a dizzy of endless headbanging and moshing. Atmahatya nurtured this adrenaline-pumped energy through their medley of extreme death-metal numbers.
The night was brought to an end by the showstoppers of the evening - Chronic Xorn. The fans were so enthralled by the all-time favourites that they kept asking for more – never wanting it to stop. But as the show was coming to an end, it was time to wrap up for the night.
"All these kids, they have been trying so hard to make the scene move, to keep the shows happening, kudos to them! They are doing great. They are kind of sticking the name of metal up on India's map." said Chronic Xorn in their backstage interview.
Metamorphosis Vol. 1 was spent in a daze of uninhibited euphoria, drunken dizziness, and endless humdrum of enthusiastic metalheads who took home many core memories from this gig. The city's metal scene reminded everyone of its vigour once again – one that is here to remain for a long time from now.