Buckets of alcohol, crumbling ATM machines inside old, old vans, bands playing on top of a bus, the curious incident of the missing bread, "All Star" jams - The Pune edition of the Bacardi NH7 Weekender 2013 had it all, or most of it, really. Akhil Sood writes. 
Starting in reverse, day three at the Pune edition of the Bacardi NH7 Weekender 2013 festival drew to a close with a predictably underwhelming finale watched by 9,000 people, all of whom were smart enough to only occupy one side of the gigantic Bacardi Arena. Some of the finest brand-name musicians in the country (self-professed All Stars) were playing popular covers while the poor organizers were panicking and requesting the crowds to spread out a little, you know, to prevent a stampede. So that got done, and a lot of people descended towards the food stalls – an entire section filled with multiple cuisines with the other side reserved for stalls selling clothes, trinkets, accessories, and stuff. Naturally, there were a lot of burgers, wraps, rolls available – fast food that's easy to eat standing up. But for some reason, by then, none of the stalls were left with any bread. They were simply handing out patties for you to eat. Who the hell ate all the bread? And why did they leave behind all the patties and other stuff that the bread is supposed to surround? What kind of cruelty is that? It was just a bizarre end (if you discount the after-party and the after-after-party and so forth) to an admittedly brilliant festival.
In any case, music festivals come and, much like cell phone reception, they go. And we move on. What remains is a return to the tedium of real life and alcohol-clouded memories of things that may or may not have happened. And the music. This year was three days with a packed lineup of artists playing on six different stages of differing sizes, showcasing all sorts of sounds, mostly indie, some commercial indie-ish. There were a shit ton of frills, because a festival of this nature is not just catering to the keen independent music aficionado. It aims at creating an atmosphere, a party vibe where people can have a blast and enjoy some excellent music. And once you're there, you can't help but be a part of it – it's a smoothly functioning mini-ecosystem.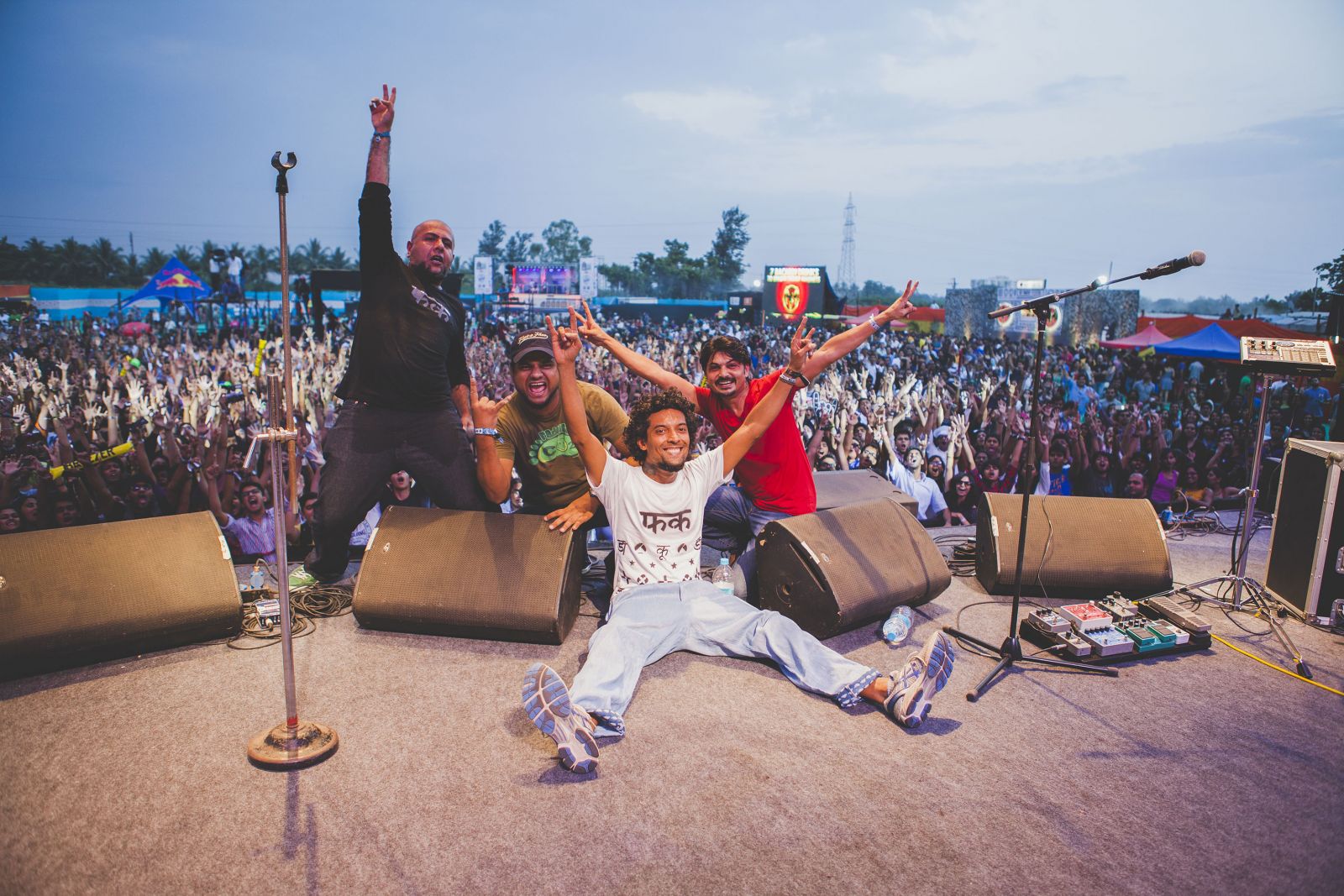 Pentagram (Photo by Parizad D)
So yes, I enjoyed stepping into the very cool ATM bus – housing the slowest, most worn-out ATM I've ever seen – to source some cash. The multiple vodka-aam panna novelty drinks and delightful vodka-lime cordial-Sprite-wedge-of-cucumber-concoctions that I tossed back with reckless abandon left me giddy and just a tad dehydrated. I didn't even mind bumping into and socializing with hundreds of people I didn't like and who didn't like me either. I lost my friends as many times as I lost cell phone reception – usually both together – and the time spent walking from stage to stage at the enormous venue – Laxmi Lawns in the Magarpatta township in Pune – took a toll on my ageing knees, sure, but I can't even say I minded that. Not even that godawful wrist band that you have to wear to enter the festival pissed me off that much – it is impossible to remove without using these scissors. The make-your-own-T-shirt place, the weird headgear and masks on sale, those little beanbag-type things that people could sit on and take home if they liked, it was all just very, very cool, and the attention to detail – especially considering the magnitude of a festival with six stages, most of which were massive, spread out over three days and attended by some 20,000 people – was meticulous to a fault, and really quite impressive. Safety, security, medical facilities, accessibility, sound spillage, parking and shuttle services, food and drinks, visuals and last of all, the music – it was all painstakingly curated and executed to perfection, to make for an actual great experience (although if we're nitpicking, some of the rock/metal bands had poor sound at times).
Photo by Parizad D
But the one striking moment, for me at least, was on day two, at around 4.30, when the sun was still bright enough to pierce your very soul. Tajdar Junaid was atop the Red Bull Tour Bus, a chameleon bus that turns into a stage, and he broke into 'Aisle', a very melancholic, ruminative, and thoughtful instrumental piece from his album. They extended the song a little in terms of live arrangements – there was exquisite orchestration, and the song is just really beautiful. It got over, there was complete silence for a couple of seconds, as the few hundred people watching it needed some time to process it, before the applause broke out. Tajdar thanked the crowd for braving the heat and the sun and announced how happy he was to be playing there for, like, the sixth time (he went on to do that another couple of times too). Just the honesty and sincerity of that little passage of time was something I'll keep with me for a long time – not to forget the reflective emotional quality and the sheer depth of not just that one song but Tajdar Junaid's music in general. It was this no-frills, 'all about the music and the moment' approach that a handful of bands at the festival had that made the NH7 Weekender a really good 'music festival' and not just a carnival with buckets of alcohol flowing in and, soon after, out of people.
Not that the frills weren't entertaining either – Skindred's boring modern rock with reggae vibe and manufactured stage act – "Jump, you fucking Indians", "Dance, dance, dance, dance" – compelled a friend and I to get some much needed rest as the music and even the very professional live act didn't quite connect with us. So we sat down on the ground near the bar at the Bacardi Arena even as the people took their clothes off and went crazy. Not for long, though, as this one shirtless idiot approached us, bent down, and yelled, "GET THE FUCK UP". Moron. Textures were phenomenal in terms of a live act, although the turnout, while quite big, wasn't nearly as much as I'd expected, probably because Raghu Dixit and Simian Mobile Disco were on at other stages at the same time.
Skindred (Photo by Maanas Singh)
One really cool aspect of the festival was the very different vibe each stage projected – the majestically colossal stages (mostly) were all designed keeping a certain mood in mind, with accompanying bars also complementary in terms of design aesthetic and visual appeal, and there was a clear shift in energy as I moved from stage to stage. A large chunk of the people were usually found swaying gently and singing along to boring fusion-ish sounds over at The Dewarists stage, which was always packed thanks to the commercially accessible lineup there – featuring stalwarts like Raghu Dixit Project, Papon, Indian Ocean, the works. The accompanying MTS Other Stage had an intimate, experimental, melodic thing going for it, with Nischay Parekh and the Ocean Orchestra's live set being one particular highlight, while Suman Sridhar's scratchy, avant-garde experiments were just a little bizarre and difficult to absorb in a festival context. Oh, and Vir Das's comedy rock with Alien Chutney really got the crowd going. The Eristoff Wolves Den stage had an electric energy about it at any given time – the people there just did not stop dancing (or drinking, for that matter). Sure, the Wolves Den was infested by the Spacebar Mafia, aka DJs who have an affinity for posing and making the act of pressing play look very difficult. But then, Donn Bhat + Passenger Revelator (listen to their song 'Stars Align' here), a highlight of the festival for this writer along with Tajdar Junaid, made it all OK on day three with their optimistic, hopeful, and really very meditative blend of electronica and rock, with sublime guitar-bass-drum interplay keeping things together behind the contemplative melodies on vocals and staccato passages that gave the music a kind of edge that's hard to put in words. And programming them on the Wolves Den stage was also kind of a coup – the place was relatively empty in comparison with some of the other acts there, but this is the kind of music that needs to reach out to as many people as possible, and as many diverse audiences as possible.
Indian Ocean (Photo by Maanas Singh)
There were plenty of "secret sets" too, I believe, but I didn't catch any of them, although I'm presuming a Zero reunion has to be one of them. Moving on, there is the one weird bastard child of indie music in India that I haven't spoken about yet. It's a tight and close-knit community, pioneered by the likes of Reggae Rajahs and Krunk artists and other Hauz Khas village incumbents, consisting of musicians, DJs, fans, artists, promoters, etc., and they all love reggae and dub music and foreign accents and community-development. Every year, when the Weekender hits, these people end their process of gestating, leave Hauz Khas village and Bandra for a few days, and are found only at the Breezer Dub Station, the only indoors stage at the entire festival this time. The underground Rasta-rave vibe was a sight to behold, with stunning graffiti adorning a couple of the walls, brilliant sound, a great sense of camaraderie and understanding between the fans and the artists, and also a sort of exclusive air about the whole place. I went there for a bit, only to be eyed suspiciously the entire time – the hostility got to me eventually so I left. But my sources tell me that all of those people are still there, dancing, drinking, talking loudly, making merry, making children, raising families.
Reggae Rajahs (Photo by Navin Devnani)
Epilogue:
In the aftermath of the Weekender, I can think back and say that it's an incredible festival to just be at. There are still three more editions of the festival – Bangalore, Delhi, and Calcutta – to go this year but I have this sneaking suspicion that the Pune one may just be the best of the lot. You can really soak in the feel there, and it has a pretty easy going vibe about the whole thing, which possibly has a lot to do with Pune the city and how it functions and the youth culture there – even if it does turn into Little Bombay these three days each year. Plus it's the original venue for the festival, so that could be a factor. In any case, I'm broke and exhausted and just the thought of going for a gig is making me retch right now after three days of constant live music, but it's a great experience nevertheless.
Click here to read Odds and Ends - Bacardi NH7 Weekender, Pune, a collection of stray observations and thoughts about the festival.