Registrations open for Radio City Freedom Awards' Multi Lingual Indie Outreach
Feb 17, 04:59pm
The fifth edition of Radio City's effort to promote independent and alternative music acts draws 300 nominations so far, as the tour continues to attract more attention. 

Photo Courtesy: Radio City
The fifth edition of Radio City Freedom Awards, a Radio City India's effort to celebrate alternative music's bests, will travel to Jaipur, Kolkata, Bangalore and Shillong before the D-day in Mumbai's Glocal Junction. The eight-city tour, covering 10 languages, will become the radio station's – or any Indian radio station's – most aggressive campaign to promote 'indie' music.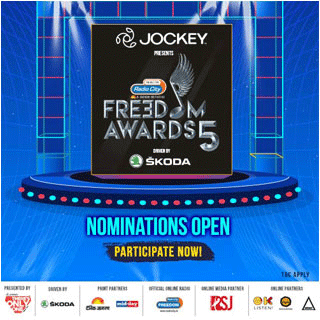 Radio City Freedom Awards (RCFA 5.0) kick started its campaign from Chennai, on February 8, with the stage hosting rock outfit Oorka and parody rock musicians in the form of Live Banned. The tour continued to the national capital Delhi where the city's two most buzzing hip hop and rap acts Seedhe Maut and Prabh Deep enthralled the audience with their respective latest studio efforts on February 15. If hip hop and rock genres dominated the first two editions of the tour, Pune's line-up took a quite contemporary and desi approach with two local acts Alif and Abhanga Repost.
Kolkata's Underground Authority, Mumbai's City Haze and Bangalore's Street Akademics will be few of the other upcoming performing acts before the tour and the edition comes to an end.
With over 300 nominations so far, the Freedom Awards has witnessed a response like never before. And they do not intend to slow down. Commenting on the launch of RCFA 5.0, Abraham Thomas, CEO, Radio City said, "After successful 4 editions of Radio City Freedom Awards, this year the property has grown multiple folds to 13 gigs across 8 cities and has clearly become the most credible and definitive recognition in the indie space. We have witnessed immense success in the past four editions and are confident that RCFA 5.0 will, once again, establish music as the universal language"
Radio City Freedom Awards in its 5th edition has evolved to become a countrywide movement that promotes new sounds of the new generation with a perfect amalgamation of modern music with a traditional touch through their songs with the theme of 'Sounds of the Soil'. Musicians and bands ranging across genres such as Hip-Hop, Folk Fusion, Pop, Rock, Metal and Electronica and winner from every category will be crowned the country's top independent artist. RCFA 5.0 will constitute of a highly acclaimed jury including Luke Kenny, Anirban Chakraborty, Ritnika Nayan , Vehrnon Ibrahim, Atul Churamani and Yotam Agam among others.
Nominate your act by clicking here.