We are nomads and we belong to the desert- Tinariwen
interviews

Nov 08, 02:13pm

Bhanuj Kappal talks to Tinariwen about their new album Elwan as they kick off their tour of Asia later this evening.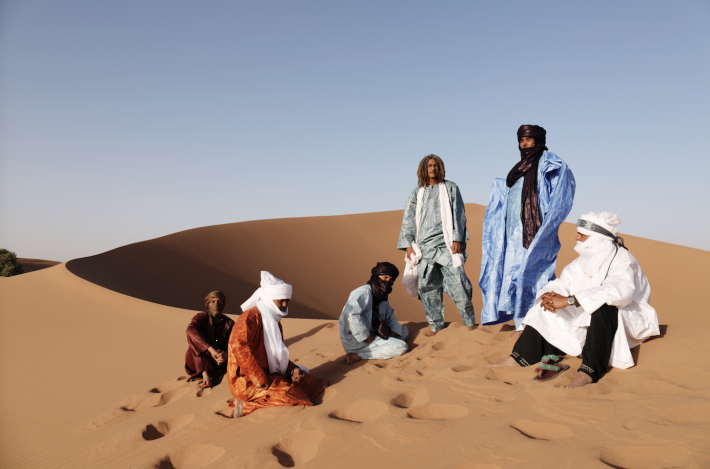 Photo Courtesy: Marie Planeille
When a group of young Tuareg musicians came together in the Algerian oasis city of Tamanrasset in 1979, all they wanted to do was to preserve and promote the cultural traditions and political aspirations of the Tuareg people - semi-nomadic pastoralists who are spread out all across the Sahara desert. The collective of young refugees from Mali - where the Tuareg have fought a decades-long struggle for independent statehood - performed at parties, weddings and around nomadic campfires, playing their repertoire of 'desert blues' - heavily influenced by traditional Tuareg music as well as Algerian pop rai, Morocco's chaabi protest music and even some classic rock - and singing Tamashek songs about homesickness, longing and facing the challenges of modernity. Almost 30 years later Tinariwen has toured the world, released a string of critically acclaimed records, won a Grammy for Best World Music Album, and become the world's foremost proponents of Tuareg culture and political assertion. Along the way, members of the group have braved harassment and threats from the Malian government and Islamist groups in their home country, lived through rebellion and civil war, and in the case of some of the older members of the group, even fought as armed rebels in the 1990 Tuareg uprising, leading Slate to call them "rock 'n' roll rebels whose rebellion, for once, wasn't just metaphorical."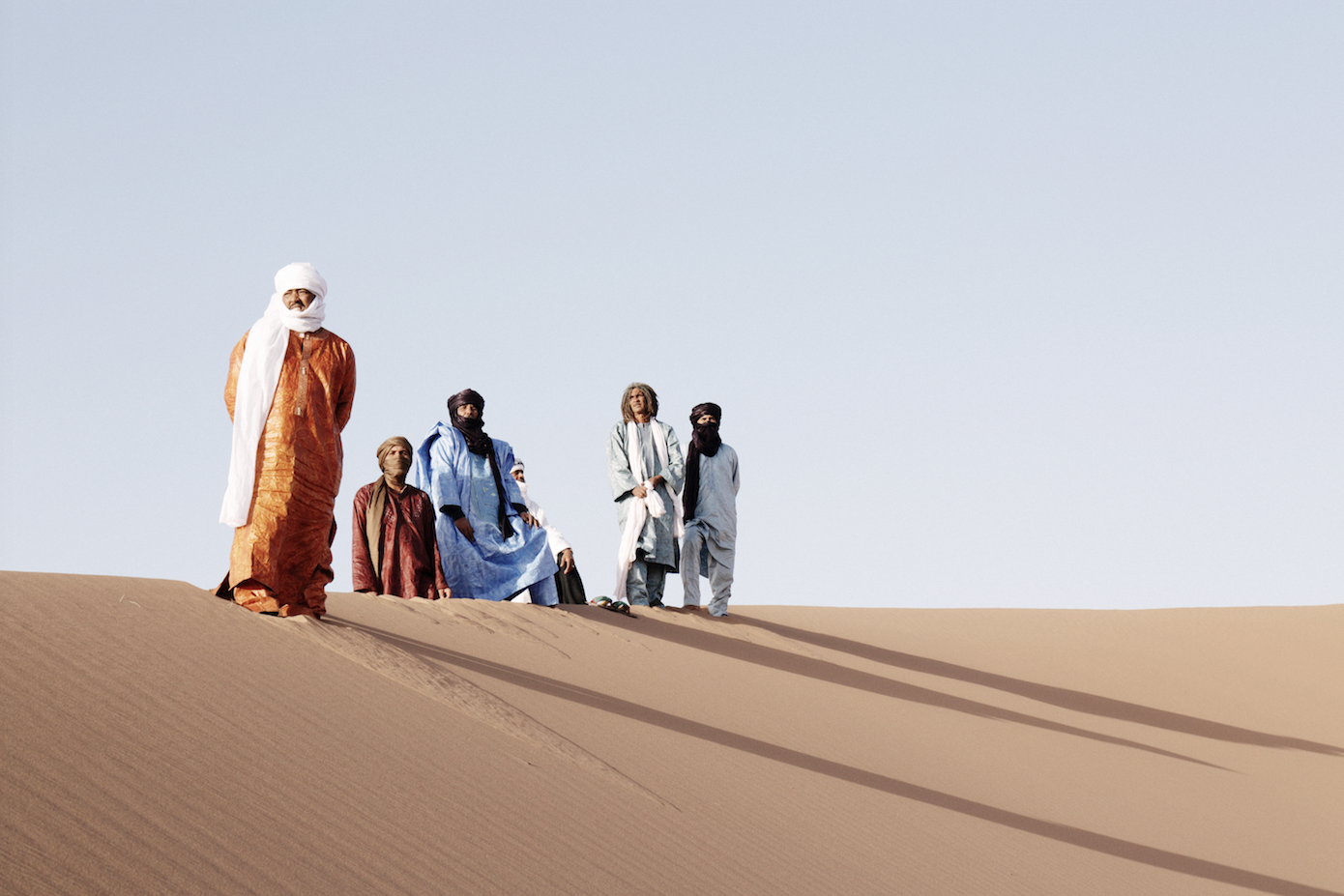 Later this evening, Tinariwen will kick off their tour of Asia in support of their new album Elwan at the newly re-opened Royal Opera House in Mumbai. The show, organised by artist and event management company Mixtape, in collaboration with the Royal Opera House's brand new jazz club The Quarter, promises to be one of the highlights of the city's cultural calendar, with tickets selling out within days. I spoke to the group's guitarist Abdallah Ag Alhousseyni via e-mail about their new album, Tuareg culture, and the political situation in their home country of Mali.
Q: Earlier this year, you released Elwan, which means the elephants. Can you tell us a little more about the album and what the title means?
ELWAN means elephants, it is a metaphor for the people and organizations that harm the Sahara and slow down its development: technocrats, corrupted politicians and police.
Q: Elwan, like many of your earlier albums, has largely been recorded in the desert. Only this time it was in in Southern Morocco and California. How important is your environment when you're making music?
We are nomads and we belong to the desert. Desert areas inspire us and we feel great there, it makes the whole recording process smoother.
Q: Can you tell us a little about Tuareg culture? What sort of role does music play?
Music and poetry are big parts of our cultural heritage. There's music in all social gatherings: whether we're out in the bush for a few days with our friends or at a wedding, we all gather and play music together.
Q: I've read that Tinariwen songs are written as a collective. Could you expand on your songwriting process?
There are currently four songwriters in Tinariwen: Ibrahim, Hassan, Eyadou and I. Each of us has a personal approach. We write on our own then we arrange the songs collectively, as a band, so that we can play them live.
Q: Tinariwen has been around for 30 years and the group has become famous, playing all over the world and winning a Grammy. Some of the older members can remember being armed rebels, but there's also a new generation of musicians who are part of the group now. How has all that affected your music over the years? How has it evolved?
Tinariwen has always welcomed several generations of musicians. It is crucial for the creative richness of the music. But beyond music, we're spreading a message of peace, we speak out for our people.
Q: A few years ago musicians - especially you - had been targeted by Ansar Dine, and Tinariwen member Ag Lamida was even abducted for a few weeks. What is the political situation in Mali now?
The political context in Mali is very intricate right now. The peacemaking process stagnates, regrettably because of economic interests…but we believe will will succeed in going in the direction of peace
Q: How do you feel about the French intervention? Especially since many of the political issues in North Africa are a byproduct of French colonialism.
It's been a while since the French have had an influence in West Africa, since the 60s. But nothing changed for us since that time. They try to help, but perhaps they don't help the right people...
Q: In recent years, the group has been split between Mali and Algeria. Is that because of the political situation? Does that make it tougher to write and play music together?
Indeed, some of us have moved to the south of Algeria, but that was for family reasons. We're lucky to have many opportunities to tour all over the world, so we have plenty of occasions to get together and play.
Tinariwen will also play at The Humming Tree in Bangalore on Nov. 9
Check out Tinariwen's music below: