A review of Deafbreed by Cheisrah.
The introductory song, 'Fuhface', to the 10-track progressive metalcore record, Deafbreed, by Cheisrah starts off with an ever-so catchy monologue on enforcement of propaganda. Call it clichéd or over-used, but by the time you've let the words sink in, the drums usher in a sinfully grimy riff. The guitars on the record have a djent inspired jarry tone, they are crunchy and the fretwork by the two guitar players is worth putting an ear out for.
The breakdowns are hammered in mercilessly with pinch squeals that will remind you of a Killswitch Engage-ish groove. The introductory track moulds into the second song, 'Skinned', which flaunts what most might term as a stock sounding riff, but won't fail to surprise you with some clever arrangements. The vocals on the album seem to have the essential qualities for a metal vocalist; they are guttaral and, at times, screechy. But personally, the vocals lacked a certain attitude, the texture being just a shade lighter than what one would've expected.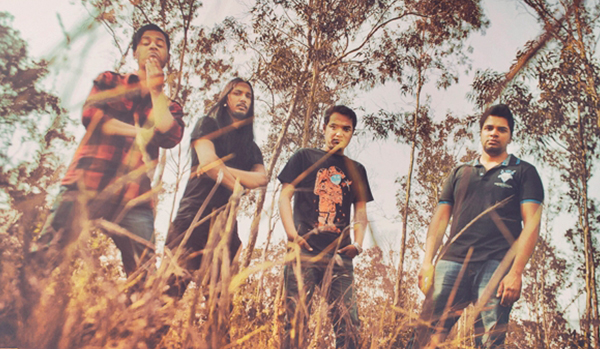 (Photo Courtesy: Ancer Ash Thwayyib)
'We Hate Metronome' and 'Home' are easy favorites to pick – the drums will continue to thump in your muscle memory long after the tracks are over. The triplets blast out of the speakers with precision and punch that will leave the average listener wasted. Special mention needs to be given to the sludgy and metallic gluggy sounding bass that churns your insides ruthlessly; this is the first time I've actually wanted to play bass after hearing it on record. Deafbreed is a must-have in every metalhead's collection; you could argue its merits of innovation and sideline it, or you could delve yourself into nearly thirty five minutes of metallic mayhem.
Deafbreed by Cheisrah is available for preview and purchase here.