'The Birth Of Billy Munro' gives the art of musical storytelling the ridiculous attention it deserves
Amrit Mohan is Mocaine, a solo project that explores songwriting and guitar among other things. His new album 'The Birth Of Billy Munro', a large undertaking complete with a novella and a short film, should not be looked at a bit of music that has an afterthought bundled with it. No no. This is a huge, detailed story about its titular character, a man broken and confused by death and what happens when you let loose such a person on the world they inhabit. Pretty cool, right? Of course, the very mention of a 13,000-word novella and a nearly 50-minute film inspires images of a concept project that now has three ways to fail instead of just one. Now, the book and film deserve their own coverage, but for now, let's focus on the music. And the music's great.
The story is set in the Southern US, so it's only logical that Amrit and crew choose rock and blues to largely tell it. The album is cleanly produced, but it retains that air of rawness and even warmth that the genres deserve. There is also, of course, an element of flow to allow the story to take its course. The tale is told best by the album and the accompanying material, but in short, it is this: Billy Munro is a man who embarks on a journey of murder, violence and general unhinged-ness after the sudden death of his newly-married wife. It's about him, of course, and Amrit injects bits of created voice samples of Billy giving the world his flawed and dangerous philosophy on the world and its people. There are also a bunch of audio conceits; cars starting among other little bits of the world he is building. In short, you can tell that a lot went into the production values of this album, and it shows. Amrit also chooses not to take too many songwriting risks, focusing on telling his story. So that results in some unusually solid writing and great listening.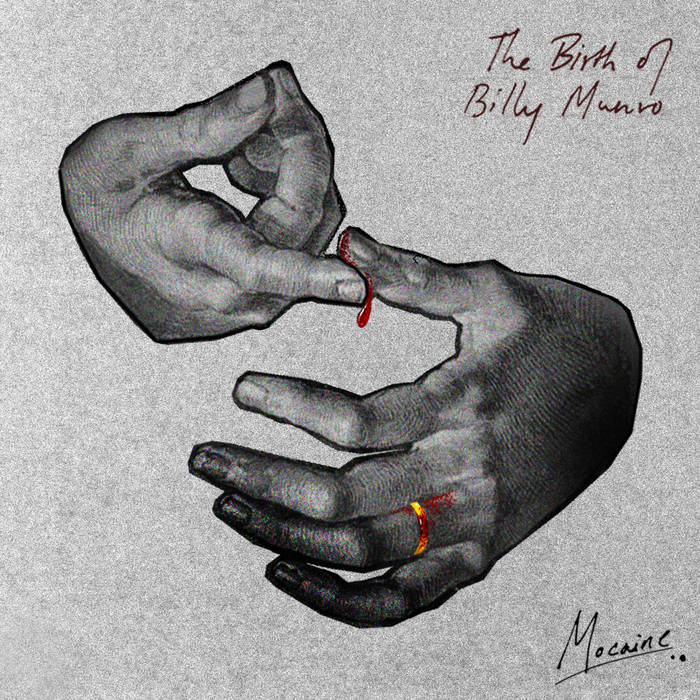 There are eleven tracks on show and about 45 minutes of music here. The opener 'Billy' is what sets the stage, a rollicking blues rock tune with some mean grooves and riffs. There are a ton of standout tracks to enjoy; 'Narcissus', for example, is one. Running at seven minutes, it's a delicious slow-build of contemplative alt-rock with some influences from stoner rock, psychedelia and more. The groove is excellent, the vocals pleasingly low-end and the chorus by miles one of the most memorable on the album. The middle of the track takes on a decidedly darker tone and segues incredibly satisfyingly into its last third where everything opens up. It's a trip, in short. 'Fancy' was the one of the singles of the album, and its almost jaunty presentation suggests a more modern rock approach. These songs are punctuated by voice interludes like 'In Delirium' which are told from the character's perspective and provide any context the songs are missing. The album's last four tracks are a strong run of riff-drums rock; 'Psilocybin' is on the more accessible side of things with an arena-worthy hook while 'There's Been A Summer' is a proper old-school ballad, modulated guitars, pauses and all. 'Daylight Sheen' incorporates some interesting chords and something of a lounge groove into an altogether interesting left hook. Fans of experimentation will love this tune. Mocaine leaves his biggest statement for closer 'The Bend', where every influence comes together. There's progressive rock in here, theater in the intro, some absolutely lush chords, maybe even a bit of grunge in the vocals. An acoustic guitar jumps into the mix for a great little solo and again in the song's outro, that peters out into what sounds like a judgement for Billy Munro's transgressions. Care has gone into this project, and you can tell.
'The Birth Of Billy Munro' is only one part of a planned universe featuring the character, and it really seems like Mocaine is diving head first into the lore and narrative the character has probably formed in his mind. But it's silly to look at this album as anything other than what it wants to be, which is a dense and cinematic soundtrack to what is essentially dense cinema. This is achieved, of course, but what is even more impressive is trying this in the first place. This stuff takes effort, and submerging yourself into the project and giving it your time is the best way of validating exactly that.