No, there are no time machines here. 'It's About Time' is a 2020 EP
Advaita has been around and making fusion for over a decade now; a hallmark of such outfits is the presence of musicians who are always to try new things. The Dirt Machine is the solo project of the band's bassist Gaurav Chintamani, and his EP 'It's About Time' is an exploration into a genre that has not made a great transition into the 2010s and this decade: blues. But while many artists who have forayed into it make the mistake of paying it lip service, he actually tries to do some interesting things with it. Result: eighteen and a half minutes of music that doesn't sound dated.
This EP sounds great. Gaurav takes good decisions with the production on the four songs here. It's a real breath of fresh air when compared to a lot of the cleaner routes that people take; the sound is dirty, distorted and dusty. It's also not part of the retro bandwagon that everyone jumped on. The drums (he collaborated with a few guest drummers here: Shantanu Sudarshan, Adhiraj Mustafi and Aman Singh Rathore) are noisy, chaotic and raw. His guitars crackle and pop with a personality you can't get any other way. Having this sonic palate gives the instrumentation a groove that is irresistible. There are no vocals, but the sheer width of sound more than makes up for it. Backing is also provided by further layers of guitars; there are moments on the EP that have a huge wall of sound that is immensely gratifying. There are various moments where drum machines and a couple of extra textures are used; if nothing else, this is the kind of music you turn up the volume for.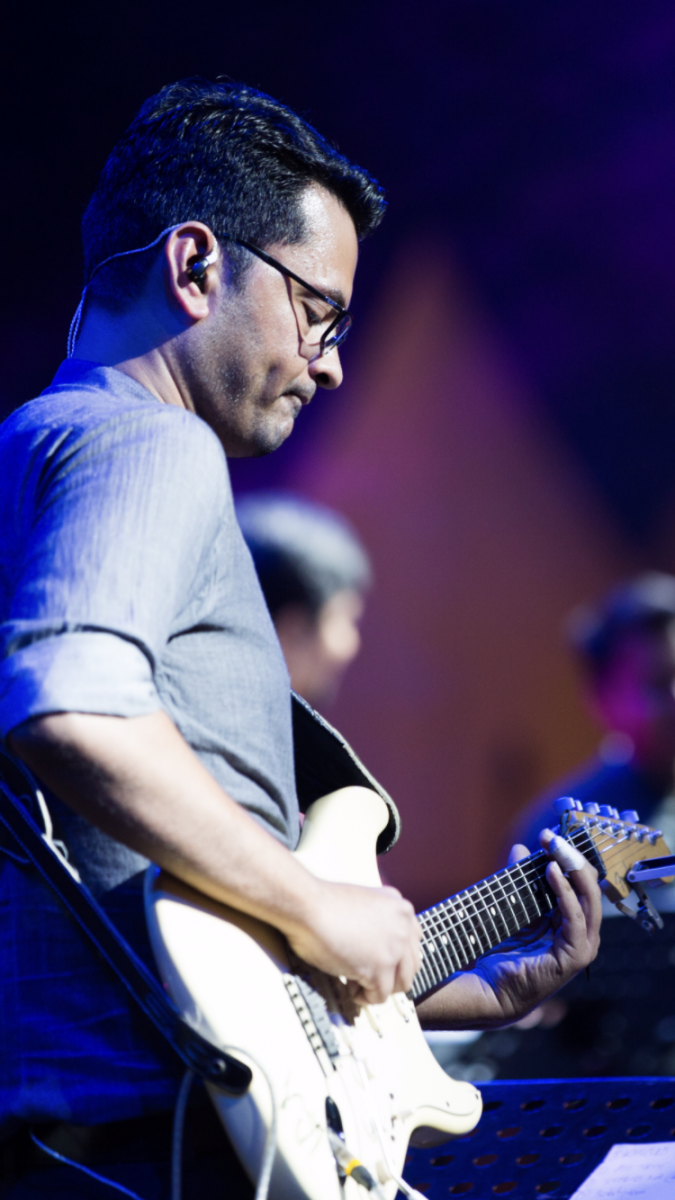 'It's About Time' is a decidedly guitar-centric project, so you know what you're getting into as soon as the weird and chaotic intro to its opener (the title track). There's going to be noodling, a barrage of riffs, and no compromise. It's obvious that the idea of this EP is not to write brooding slow-burners or cater to (the sizeable audience of) people who are looking for the gentle progressions that this sound lends itself to. You get hit in the face with a fast-paced riff in odd time and once the drums come in and amp things up, it's seat-of-the-pants stuff. The bass (obviously, what Gaurav is know for) provides bucketloads of rove and low-end. The track doesn't let up on the intensity throughout, and it's jam-band style outro is huge. 'Blue Cubes Of Ice' and 'Get Off' both dial back the madness a bit in favour of establishing straight grooves, but they are no less fun to listen to. 'Blue Cubes Of Ice' has some of the catchiest bass work on the EP and that is what drives it. It incorporates a woozy interlude of sorts before the volume kicks up for the last third. 'Get Off' is the most outwardly groovy track here; every element seems to be custom-built for body movement. The guitars have a fuzzier texture on this song which lends them a bit of a percussive feel. The EP closes with 'What Did I Know', which keeps the energy up until the very end. There are more grooves and riffs to be had, of course; at no point on the EP does that spirit change, and why should it?
Listen to 'It's About Time' here.