Dream Theater finally makes it to India thanks to Opium Events who have brought guitar legend Joe Satriani and metal giants Sepultura in the past.
American Prog Rockers Dream Theater will be in India for their debut performance in Mumbai at the MMRDA grounds. This will be part of their "Images, Words and Beyond" 25th Anniversary World Tour. Mumbai-based events company, Opium Events who have also promoted guitar legend Joe Satriani and metal giants Sepultura in the past, are bringing this legendary band to India. According to owner of the agency, Cyrus Gorimar, Dream Theater will be travelling to India with 9 tons of sound gear for this show. The band is yet to announce it on their official website. Tickets go live in India on August 16

th.
Gorimar has been working on this event since April this year and feels confident that this gig will be sold-out in no time. While not too many promoters are making money in the live music entertainement scene due to various factors, we asked him about his expectations of an event of this scale. He says, "Yes, this is when we will make money as they are one of the most loved bands in this country". Opium Events is also hosting Dream Theater in Dubai apart from India.

This will be the second time for DT bass player John Myung in India who has performed earlier at RSJ's Great Indian Rock Festival in 2005, where he collaborated with Indian musicians like Vocalist-Nitin Malik (Parikrama), Guitar player- Gautam Chima (Orange Street), Drummer- Ashwin Andrew (Friday The Thirteeth) and Guitar player- Donn Bhat (Friday The Thirteenth). Here is an old picture below from the green room at the GIR festival, New Delhi in 2005.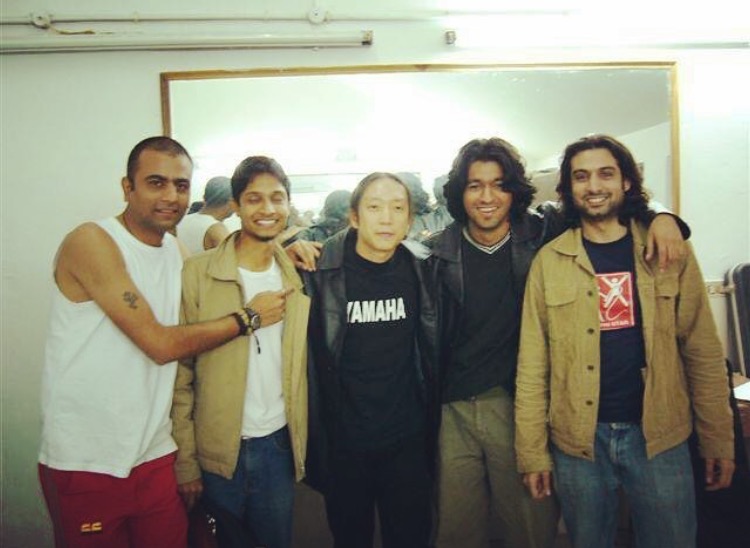 L-R Nitin Malik, Ashwin Andrew, John Myung, Donn Bhat & Gautam Chima