Delhi's Barefaced Liar have made a name for themselves with their indelibly catchy modern-rock vibe, keenly intertwined with a degree of virtuosity. The band is currently in the process of working towards releasing their second album in the next couple of months, while also gigging heavily. We chat with them about the new album, opening for Hoobastank, what the future holds, and their songwriting process, among other things. 
Barefaced Liar's music has a very unique nature to itself; it is as catchy as the best pop-rock song around, folded with the intensity and rawness of carefully placed metal riffs. It has the subtlety of harmonies and melodies embellished with ambient sounds, but with the heart-stopping adrenaline rush of fast paced crescendos added nicely into the mix. There is a constant tug-of-war between seemingly uncooperative sounds and styles that gives the listener a look into the intelligence and musicianship of Barefaced Liar; the intrinsic ability of the band to write music keeping in mind a seemingly endless soundscape with a limited amount of tools. Indeed a style of music that is difficult to be defined as part any particular genre, to say the least. But, we have lead vocalist and guitarist Akshay Chowdhry to help us with that dilemma; he says, "We call ourselves a modern rock band, 'progressive' kind of takes us into a different alternative genre. So we wanted to make it easier because there are certain songs that you could say are more streamlined and accessible, and certain songs that have longer arrangements and are progressive in nature. Overall we want to keep it simple for the people, so we call it modern rock."
BFL hit the gigging circuit in 2008, amassing a wealth of fans in practically no time. Their self-titled debut album defined its own space within indie music with quite some ease. With the second album in the making, listeners and lovers of BFL have had the privilege of witnessing not only the evolution of the band's music but the members themselves. They've been extremely active within the touring circuit of late, having recently opened for American modern-rock stalwarts Hoobastank at IIT Delhi's annual festival – "To open for an international band is an amazing opportunity," says Akshay. "We played to a houseful audience at IIT Delhi, everyone was very enthusiastic and there was great energy. It was an amazing experience for us." In fact, they've built quite a name for themselves with their live sets, where they incorporate violins and keyboards as well, adding a richness to the sound, which they further accentuate through extended jams and solos, and they have a slew of gigs lined up in the coming months. In addition, they've also just had a stint on Balcony TV, performing a rearranged acoustic version of 'Toe the Line' (watch below), the first single from their upcoming album. They haven't yet zeroed in on a name for the album just yet – "We're still going through some names. We don't want to give you a whole list of tentative names," laughs Akshay – but the release has been planned for either end-December this year, or maybe early January '14. They're in talks with Zorran Mendonsa, who produced their first album as well as Goddess Gagged's debut, among others, to produce the record, and have been sending recorded bits to him in New Zealand, where he's based.
Watch Barefaced Liar play 'Toe the Line' on Balcony TV below:
"For the second album," Akshay says, "you could say that we have a more mature sound without sounding clichéd. We've taken a step back and witnessed the bird's eye perspective on what has worked, what hasn't, and what we feel can work, based off of our experiences playing live, especially. The reactions to some songs have given us an idea of how to proceed with the next album. So the idea with this album was to be less self-indulgent [laughs]."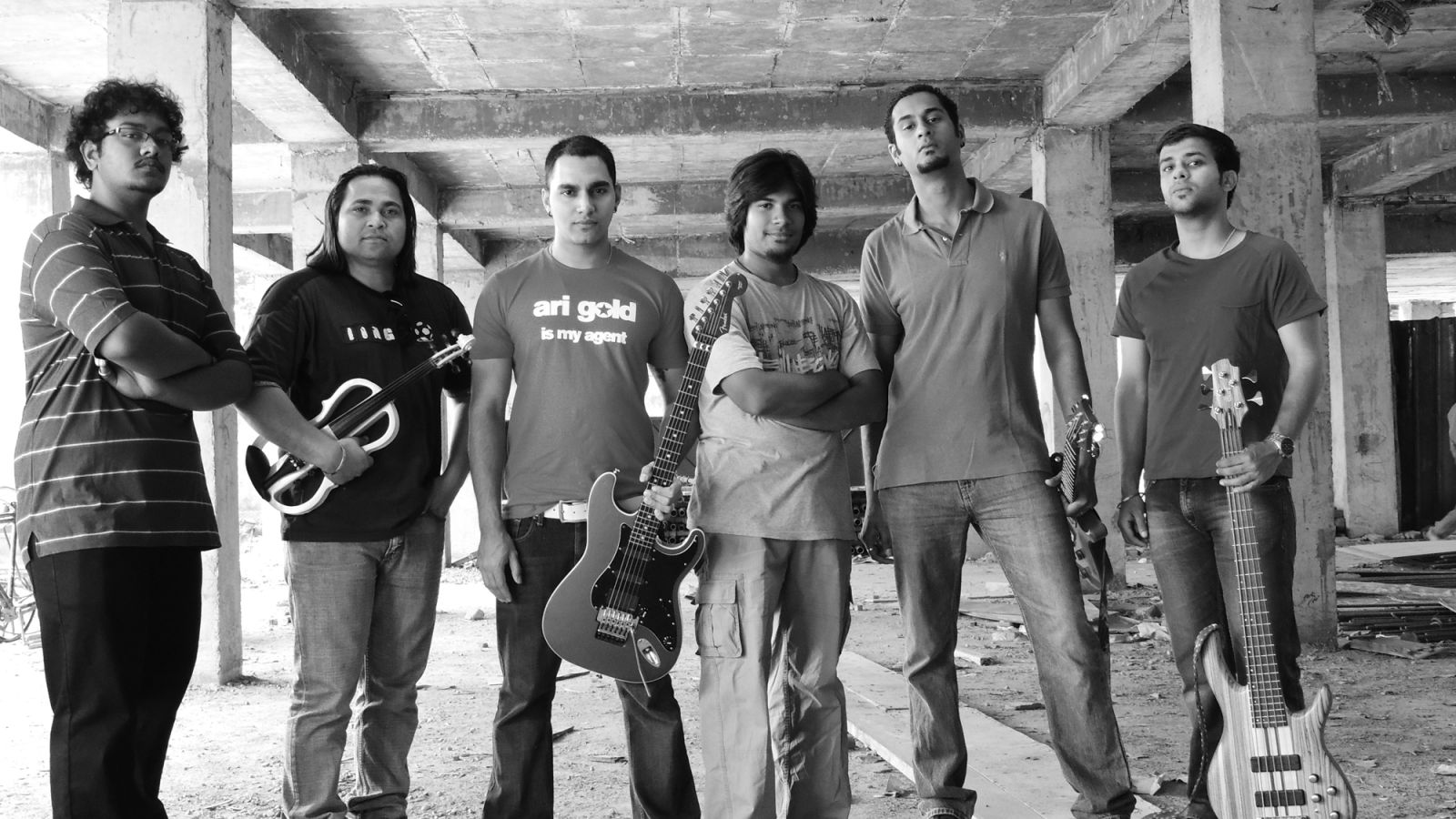 The live lineup of Barefaced Liar (Photo by Tanuj Ahuja)
One does not need the intellect of an astro-physicist to figure out that the songwriting process itself gives immense insight into the artist's perspective. We have the virtuoso musicians that write songs derived theoretically and proven mathematically and then we also have the musicians that believe in simple spur of the moment jams, where the songwriting process takes a very natural and unexpected turn. Barefaced Liar is an example of a band that varies their style of writing with each new song, exploring as much within the realm of the creation of art as realistically possible.
Stream the studio version of 'Toe the Line' below:
The band's writing is free-flowing in nature and has the fingerprints of each member's personal thoughts and experiences. Akshay says, "A lot of our music is like a stream of our subconscious and it just flows; you write words and melodies and piece it together, and you notice it starts to mean a lot, later as compared to when you were writing it." Now, while on the one side Akshay tells us about the more sound and methodical approach of the band towards song writing, guitarist/vocalist Sumant Balakrishnan speaks of the flipside: "There are of course all of these personal feelings that factor into the music from time to time. But, sometimes we just get together in a room and start playing, and suddenly one of us will get an idea and everybody starts vibing off that, and by the end of it, you get something pretty cohesive that sounds good. So there's a lot of this kind of songwriting as well and I think we have a good blend of the two. And the result is, writing a song that is trying to put across a point rather than it just being a series of jams, which some of the music actually is. But, it is a cool blend of things that happen in the moment and things that you have kind of preconceived before. It's really good, it's really fresh."
There hasn't been enough said of BFL's unique personality within the Indian music circuit; here are a bunch of musicians in it for the love of music. They are adventurous enough to explore new territories time and again, and probably our best bet to look forward to when it comes to musical trailblazers.
Read our review of BFL playing live here