We should apologize; this one slipped through the cracks a bit when it came out in March, but it's more than worth talking about, so let's do that now.
The indie scene knows Chennai's Alvin Presley relatively well; he's been doing music for a few years and had his rounds on the playlist and 'industry discovery' circuit quite a few times. He's actually made his way into production for other projects while continuing to make his own stuff; 'Pain Geography' is his new EP. It represents artist growth and a willingness to try new things, which is exciting enough in itself. However, this case is even more so because it comes from a singer-songwriter who was making your standard indie-pop fare, and what makes that so interesting is that almost every artist you hear in that space is very content with staying true to a formula. Reliable, low volume, acoustic, wistful. This EP experiments with it and even turns it up a little.
Here's the overview: Five songs, about 17 minutes, mix of styles. Alvin has let his imagination run freer on this than his earlier work, and that means that every song has its own interesting quirks to it. The opener 'Take It All' is plenty of fun for a track that's less than two minutes long and sparse in its arrangement. There's a sort of cavernous synth and a little ambience, and a heavily auto-tuned vocal melody; it's like if the outro of Kanye West's 'Runaway' was the soundtrack to an emotional scene in a space movie. There's much less bombast in Alvin's writing, but the vibe is still there.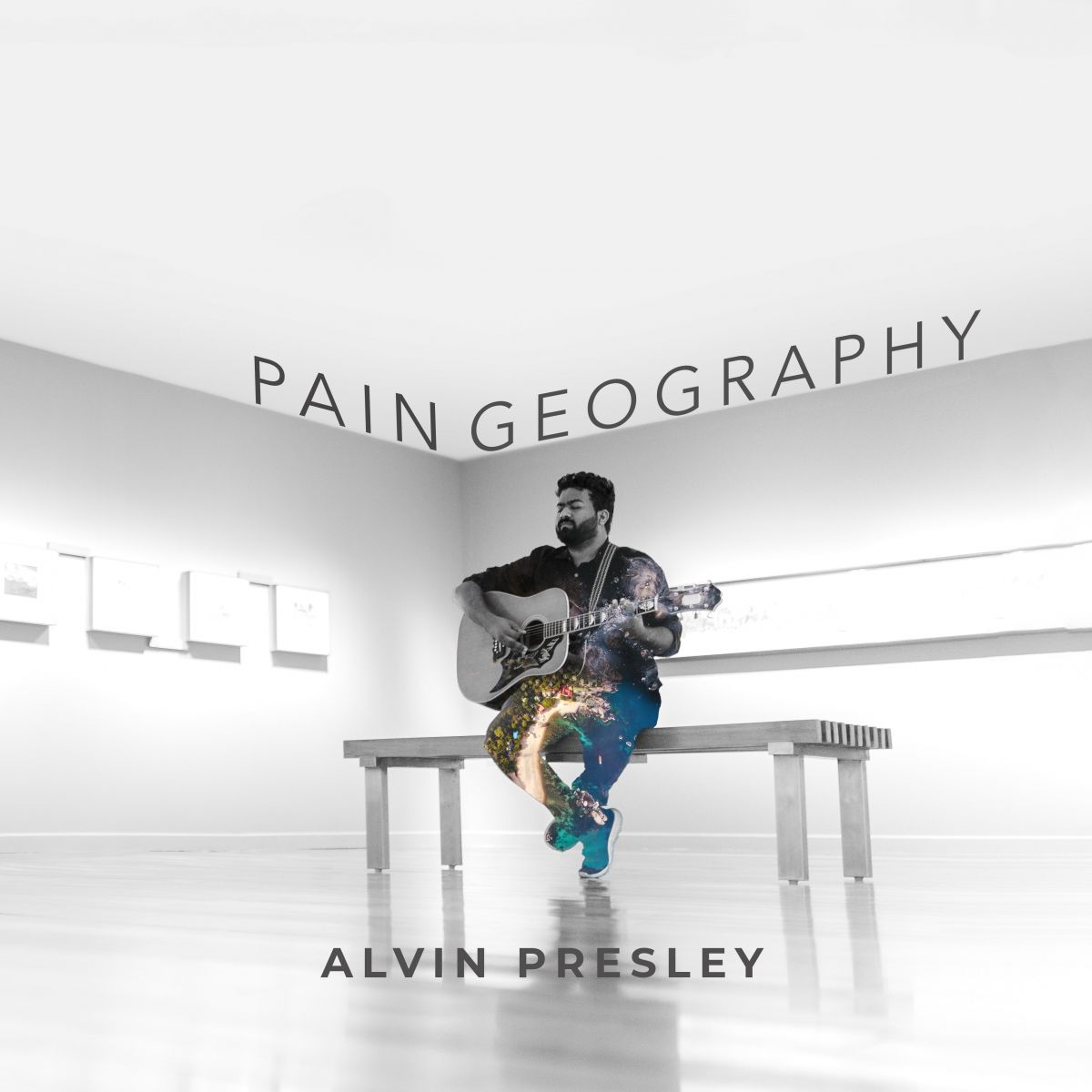 'I'll Miss This Day' is a brooding blues-rock song that has this quiet rumble to it. The main riff is on an acoustic and there's a bit of driven guitar too that gives off heavy post-grunge vibes. There's maybe shades of Nine Inch Nails and artists of that era, albeit turned way down. But, again, the vibe is there. The song's also an absolute peach; the outro is great, vocals are on point and the riffs are endlessly replayable. This exact vibe also pops up on the EP's closing track 'Afraid Of Love', a more stuttering and punctuated take on the bluesy grungy sound. Perhaps it's a bit sunnier too. These two tracks are separated by 'Love Will Come To You', which is a a more normal ballad, and 'Leaning', which is squarely a late 2000s indie tune. It's upbeat, has quite the guitar part (probably a uke too) and has an atmosphere completely different to the songs surrounding it.
Maybe that's sort of the point of 'Pain Geography'. Alvin Presley doesn't even try to have some sort of musical through-line that connects the entire project. Sure, the emotional content and lyrics of the songs have some connections, but this is more an experiment to see if he can try out a bunch of new things and do justice to all of them. Turns out, yeah, pretty much!