This new movement of artists popping up out of nowhere with strong debut albums is still going strong, and it's a bit of a head-scratcher. Is it the pandemic that has given people extra time to be thorough? Does getting songwriting experience and playing live have less of a bearing on an indie musician's career growth? Either way, it can't be ignored; there's some really nice stuff coming out from people who are just hitting the ground running. Langur Lucid, an anonymous artist from Kozhikode (it's in Kerala) is another one; his first release is a whole album 'Edible Ennui' and it's excellent from front to back. How has he gone and done that?
Langur gets pretty much everything right sound-wise here. There's a nostalgic quality to some pockets of indie where artists are looking back instead of forward (and this is in the mainstream too, just ask Abel Tesfaye); this album embodies a lot of that kind of spirit. He started producing on his mother's old iPad, and it's safe to say that this release ticks every box. The grooves are languid and smooth, there's some lovely layering in the arrangements and his vocals, while thin, fit in like a glove. Synths that belong in your favourite 90s video game (Dire, Dire Docks?) seem to be a commonly used tool with some underrated basslines and chord work behind it. It's all designed to bring that Technicolor or neon spirit of vibes past to your ears. And even this is just walking so the songs to run. And do they? Yes.
'Edible Ennui' consists of a bunch of really rather sweet little stories about different foods. That's the meat of the matter (there are a hundred food puns that didn't make it into this edit) and there's close to 40 minutes of it. But does it stall or bore in any way? Nope. Opener 'Corn Flakes' is a dreampop-inspired interlude with some really great synths and reverb-drenched vocals. This is a wistful and endearing tune, and it's only a minute long. Especially the skittery groove here; it's delightful. It's followed by 'Bread', one among the many standouts on the album. If you combine old game menu music with the new funk-pop revival (Parcels is heading this in a way, but there are many artists in this world), this is what you get and it's a great listen. Great hook ('I ain't got no bread / And I just want it toasted' is hilarious and a bit sad), great groove.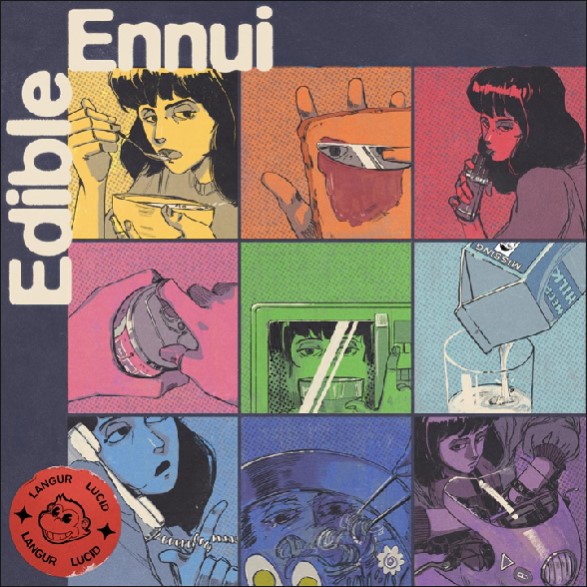 'Raspberry Jam' more of a slinky vaporwave jam with a more laid-back feel. Langur gives the bass and an arpeggiated synth some shine on 'Chocolate' with wonderful results. The song's intro and chorus will live rent-free in your head for a ges. 'Soda' all goes hard on the bass. Another high moment of this experience is the superb 'Ramen' with its nods toward retro-wave, Daft Punk-y chords and even a little downtempo and dance music. The psychedelic guitar layers find themselves dancing around with some wah and boogie, and then some funk. It's just a stone-cold hit. This psychedelic vibe is reflected on the keys in 'Delivery' too, and throughout all these songs is Langur's droning, despondent vocal delivery telling his bittersweet stories. In fact, by the time you get to the very funky and danceable (IDM vibes) 'Midnight Drive Thru', it becomes pretty tough to pick out songs. It's a seamless listening experience that barely drops in quality.
Now, yes, 'Edible Ennui' does live in a very defined musical space. It uses a few sounds and a few influences to end up with songs that all have the same sort of emotional effect on the listener. Now, that would be a limiting factor at times, but here it's actually a big advantage. This is a debut. It does such a good job at establishing Langur Lucid's musical identity that you can actually pick out his songs in a crowd. Of course, the album also has the quality to give you happy memories right from the first listen. And there will be more than one; of that you can be sure.