'Superpower 2020' lacks the otherworldly bangers of its predecessor but focuses instead on commentary and the present moment
Mr. Suryakant Sawhney's name isn't new to anyone's ears in the independent scene, but for those who somehow haven't discovered him yet (first of all, you're in for a treat), this new album as his solo project Lifafa is one the most the most anticipated releases we've had in some time. His solo full-length 'Jaago' was flat-out one of the best albums of 2019 and in hindsight maybe more. It was a dizzying journey through old Bollywood styles and electronic music, a perfect combination of some things that make our scene cool. This new album 'Superpower 2020' isn't as much of a rager or as outwardly fun as 'Jaago' was. That culminates in an album that is bit more inward-looking.
That inimitable sound is still around though, and it's as fresh as ever. He got it absolutely right with his balance of synths, old-world charm and razor-sharp production on his last album, and here it's almost the same. Almost. It's slightly watered down in terms of sheer colour and energy, but it's still very much him. It's impossible to ignore that a few moments lack that spark, though. Songs like 'Laash' spend a long time establishing sounds that don't need that much time; the short melody that anchors the whole time ends up stepping on the toes on the expansive synths that surround it. 'Bewafa Hai Ghadi' is a bit more focused but sounds a bit rehashed; the harmonium does a great deal on its own but doesn't really set anything up. It's a quiet and textured ballad in a way, yes, but it does squarely stay in that space. That being said, his vocals are still as warm, rich and romantic as ever. The charm we all love so much is very much present, but over the album one does get the feeling that it's set against ideas that are more sporadically creative than continuously so. What that does for the music on the eight tracks here is take away their magnetic focus on occasion.
There's almost fifty minutes of music here, so the way it's packaged does play a role in how enjoyable the album is as a listen. And there are times it's wonderfully so. 'Irradon' is one. Its driving groove incorporates snatches of guitar, old-world drum sounds, a string section that sounds like some old disco-house tune and a ton of reverb. There are some things more grating than pleasant, but when they all melt away to the bare bones of the track and Lifafa's excellent vocals, it's a cathartic moment. 'Wahin Ka Wahin' is an absolute standout as well. The 'Bolly sample is great, the folksy groove is oh-so danceable and he is much more focused with his sounds. The trumpet tone is great, the hook is vibrant and almost six minutes just fly by. This is the combination we've come to love and while it isn't particularly different from what we're used to from him, it's nowhere near dated.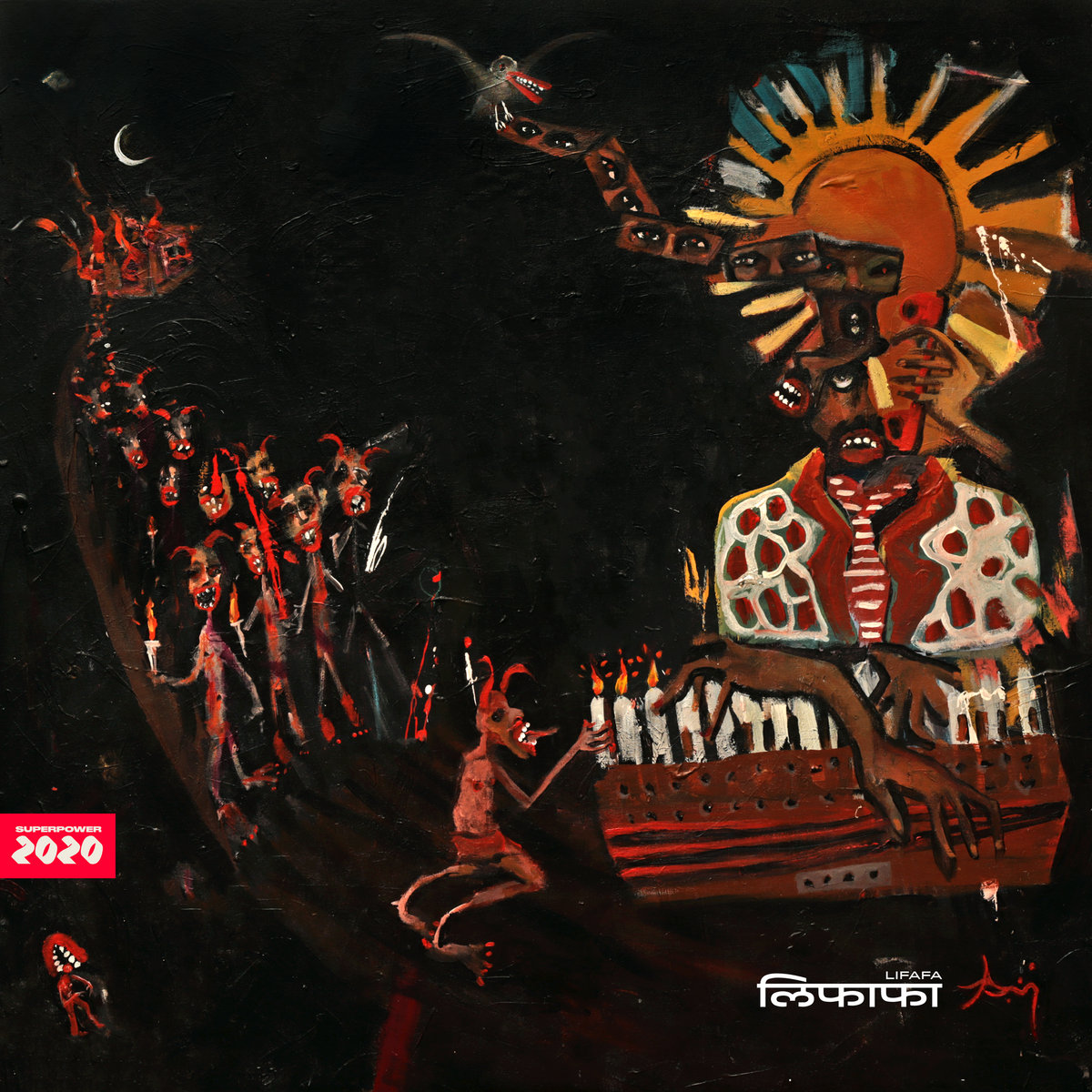 'Laash' is a bit less so, however. Sonically, it has all the ingredients of a great track. It sounds good, the background vocal sample is equally cool and of course, he is still strong on vocals. But here, certain things interrupt it. Layers seem to not want to be around each other instead of meshing and the plodding groove does offset the last third's piano to an extent. Of course, the very fact that Lifafa uses backdrops like this to sing about politics, the state of the nation and his personal confusion on where we are is both appreciable and a bit odd. When it works, it sounds like the statement of our time. 'Mann Ki Baat', by miles the most accessible track on this album, is a case of a vocal melody that you can play at any stage of a party and someone will sing along to. The atmosphere it creates is also wistful in a nice way if you miss what he's singing about, which is contrast done right. 'Acche Din' has similar ideas to the lilting 'Bewafa Hai Ghadi', but in a torrent of glitched-out samples and an outro that wants to be unsettling while retaining nostalgic Indian elements, it loses its oomph a tad. The album's closer 'Mandir' is thirteen minutes long. It features an artist (Lifafa produced the song before allegations against this artist came out and donated the artist's share of royalties to helping with violence against women) and again, yet again, it shoots for the moon and doesn't quite get there. Every mini-section it contains works by itself but when put together, it just ends up being a bit of an arduous journey instead of the lost sign-off it wants to be. If the intention is the former, then it's perfect.
It doesn't need to be said that Lifafa fans will love this album. Of course they will. It's still experimental while being lovingly indie, he still surprises and delights at the right moments, and of course, it sounds great. Where 'Superpower 2020' suffers is its sense (or partial lack thereof) of celebration and joy. Now that's fair, of course. As a statement of the time, its dissonant confusion, generally muted emotion and quiet anger makes sense and is possibly quite relevant. But if you were thinking about having that sense of wonder and frisson you had a couple of years ago, this album isn't packed to bursting with it.