A full decade of destroying every stage they step on, and Delhi's extreme metal spearheads, Undying Inc., are showing no signs of slowing down. They've paved their own path, done it their way, and, above all, kept the process of writing and playing music with honesty at the forefront. Shomi Gupta sits down with the band for a long chat on their legacy, future plans, and everything in between.
Ten years is barely a drop in the ocean when you compare it to many a lifetime that has been dedicated to the pursuit and honing of a passion or an art-form; in groups or in isolation, individuals have tirelessly dedicated themselves to an ideal despite constantly being thrust under attacks by various forces of life. However, within the ever-expanding spectrum of the Indian metal scene, ten years could well be likened to multiple life cycles – a bunch of people form a band, they write their first bunch of songs, the word spreads/the shows follow and before you know it, they've disbanded and moved on to other things like jobs or, in more extreme cases, fusion bands. In a market dictated by fragmented audiences, a relative lack of platforms, and a constant onslaught of commercial trends, it's only the few and the proud who shall provide the next generation of bands with vital inspiration; and to this task Undying Inc. (UI) has already cast its name in stone. Over the course of multiple line-up changes and a temporary hiatus, they have preserved each strand of their DNA to deliver two EPs and two full length albums that bear testimony to their evolution, and their commitment as musicians. For the entirety of this journey, the decks have been manned by Reuben and Biswarup, both founding members of UI and chief engineers at the heart of their songwriting machine; and apparently the secret to their longevity is a rather simple two-point formula.
"Focus on the music. If you want to make it, you will." – Biswarup.
"Do your own thing. Do it your way" – Reuben.

While focus and DIY are essential clichés associated with any independent movement, it's a lot easier said than done. Rewind ten years and Undying Inc v1.0 are as good as any amateur band, trying to hone their then-thrash based template towards a more technical and aggressive meld by playing college competitions. "I remember one IIT we got disqualified 'cos we had to play a cover and obviously we didn't," says Biswarup while looking back upon the early assaults to their ironclad will. Both of them concede to having decided very early, while in their teens, that they would play music for the rest of their lives. "People would tell us, 'What's the point of making this music? Play competitions. Covers bajaao (play covers)'... and these were people who mattered in the scene at that point of time," reminisces Reuben, reflecting upon the early days of struggle. Incidentally, it was at this ill-fated IIT gig which Biswarup spoke of, that they found a fan in Shashank Bhatnagar, then-vocalist of Hollowcaust, who was immediately drawn to their defiance and ethic. "These guys gave a shit about their music. They actually wanted to make music rather than play like Pantera or LOG," was the indelible impression he carried back. Dispirited by the partisan nature of these competitions ("How are three guys, whose ultimate definition of rock n roll is GnR, going to even comprehend death-thrash?") the band decided to play the odd gig at The Mezz or Cafe Morrison and released their first full-length album, Preface to Erase (2007) to a handful of fans and soon, owing to the call of a career, it was time to look for another vocalist, and the dice rolled over to Shashank Bhatnagar.
When I am going to die, when I'm fucking old and if I have to look back and say what I got out of it – That's what Undying Inc. will take back from this. We did it our way."
To be honest, Shashank was a choice that had shocked many. And owing to then-relevant reasons, 'the scene' was essentially judging a book by its cover. "I was one of those guys who was hated by almost everyone then. These guys were respected but I was hated because, you know, I had random aggression happening. I used to lose my shit easily. I was a very weird guy and I was never content with myself. I was trying to do things but never getting there," Shashank reminisces. However, Undying Inc., were not part of the judgement brigade and, by their second gig as a line-up, they knew they were onto something. "Anupam (who later produced UI's 2010 release, Aggressive World Dynasty) was doing sound at the show and he used to hate me left, right and centre. We'd been through a showdown because of an RSJforum fight," says Shashank. "And after that show he came up to me and said, 'Dude, this is a new journey for you guys. Welcome.' "
Over subsequent outings in front of the mic, Shashank discovered a therapeutic microcosm in UI's ecosystem, one which his sense of self was in search of. Finally he was part of music that made him feel proud. "I realised that I am not a fuckall guy. I can improve and I don't need to be angry all the time. I am not a bad vocalist, I can always do better; I learnt that there is never a bad vocalist, just a vocalist who doesn't try hard enough. So I was like, 'Okay, I can do this. I can try and get somewhere.' With these guys I strived to match my sense of potential and it gave me a sense of contentment". As he gushes over how content he felt and the rest of the band ribs him about how it's the 'word of the day', there is an overwhelming honesty to his words that is unmistakably grafted across each member of the band with respect to what they do and why. With Shashank fronting the band and a subsequent change behind the drums, UI v2.0 ushered in a new era that was characterised with groove, ferocity and a constant need to push the boundaries of technicality and skill. The final peg to the current line-up was fixed when Nishant Hagjer, all of 19 years old, took to the drums after the band decided to part ways with Yuvraj Sen. In a confession that echoes Shashank's admiration for the band, Nishant recollects opening for UI at Shillong with Death On The Horizon in 2012, "I saw them live and I was like, 'Maaan, it's impossible to play this stuff live. I really wanna play drums for them," he says, pauses, then clicks his fingers like a boss and exclaims "Next year, done!" as the rest burst out into laughter. Challenging themselves with their instruments is clearly an essential part of the Undying ethic and as Nishant marvels at his levels of self-improvement ("I had no idea I could play this shit"), Biswarup compares each jam to a workout. "I guess we tend to push everyone because, from the very beginning, we wanted to be the best at our instruments. We'll keep pushing and it'll keep getting crazier," he says. "There's a lot more ghost parts now. Earlier it was about solid locked chunks placed one after the other. Now it's more fluid in between," says Reuben while speaking of how the percussive shift has influenced their sound as a whole. "Our sound is changing; a little away from technicality but the groove is intact," adds Shashank. As the conversation shifts to Nishant's ask.fm account and some serious leg-pulling ensues on account of the propositions he gathers on the same, it becomes a little difficult to not place this camaraderie in contrast with events from last January.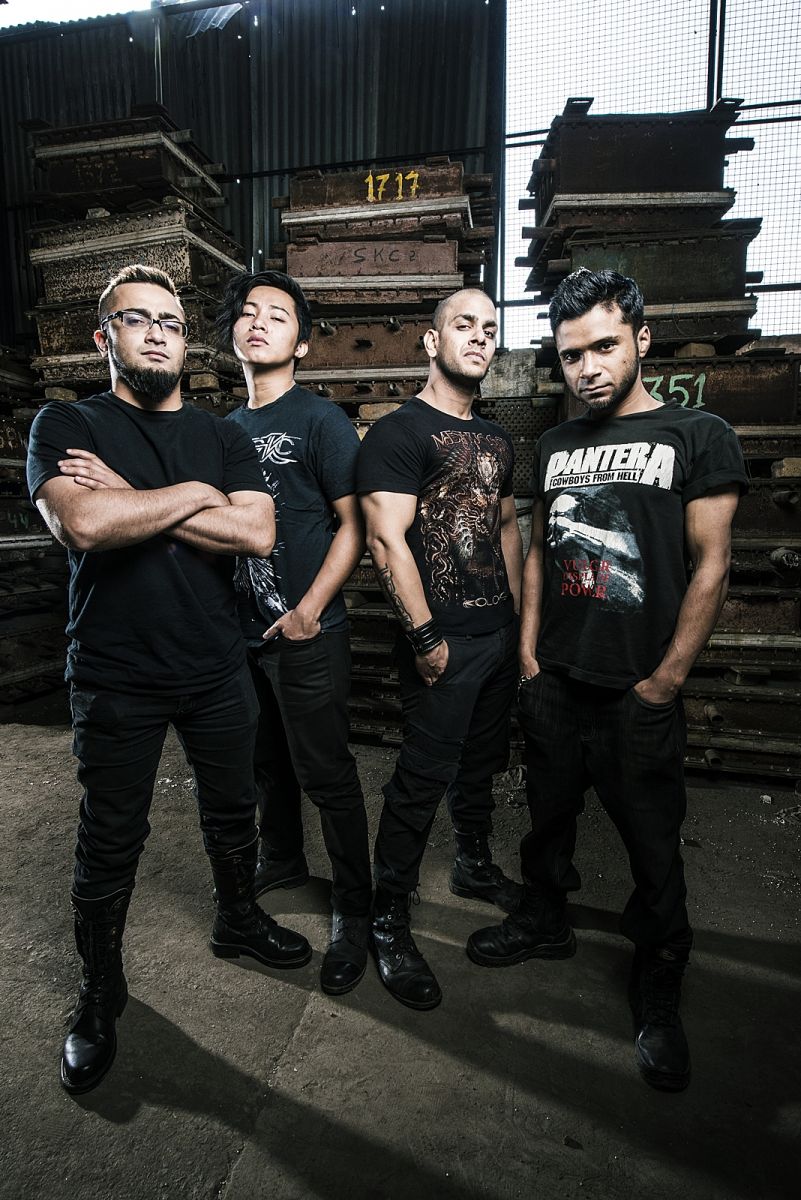 "I was in Guwahati when my friend told me 'Bro, your vocalist has just left the band.' I was so convinced that this was a troll-post and that these guys were kidding and it took me a while to realise that this was actually happening," says Nishant with reference to January 2013 when Shashank quit the band and all hell broke loose on the internet. For seven months, Biswarup and Reuben kept exchanging ideas and tried to keep themselves motivated while auditioning vocalists. Nishant, by his admission, got "carried away" and started playing with other bands whereas Shashank embarked upon what had to be the most curious journey of the lot. In what is perhaps one of the most bizarre attempts to leave the past behind, he tried to form a Sufi band. When questioned about the same, he breaks into a laugh and elucidates, "I was thinking commercially. I tried to do a little bit of research on Sufi and it lasted for two weeks," he says. Despite better sense having prevailed there were no discernable attempts to re-unite. "It was like everyone opened up and thought, 'Fine let's see what's happening around'; and at the end of the day you just realise that we are a band and that it was always right there," says Reuben. Thus, when he finally picked up the phone and dialled Shashank, it was as simple as...

Reuben: You wanna jam?
Shashank: Fuck yes!

Wiser after their split, each one of them agrees that the downtime was actually good for the band as it re-infused a sense of appreciation for what they had and also re-coiled their springs. Consequently, the last few months have seen a flurry of activity from the Undying camp. A new single, a tour in support of the same, a music video and one for the bucket list, the Red Bull tour bus. "I miss the bus even now; my life has become so fucking normal," rues Biswarup as they collectively gush over what has been the most professional experience of their career so far. From a 6000-odd showing at St. Xavier's college in Kolkata to a moshpit that travelled to the stage at Guwahati ("We are in the middle of a song and this guy gets up on stage and wants to take a selfie with Reuben. I had to intervene and pulled him away so that he could take it with me." – Shashank) Undying Inc. left a blazing trail along their pit stops, but none as satisfactory as the random jam in the middle of the highway along an unknown village. The Red Bull video crew wanted to shoot the band performing an acoustic set which, as far as my ears go, sound like an anomaly. And by the power of improvisation, the rejection of the aforementioned idea found a far fulfilling substitute in an impromptu jam on a highway near a small little village. "I was afraid to do vocals because people would think I am possessed," laughs Shashank as he recollects launching into a fully plugged short set powered by the basic backline attached to the bus. A bunch of curious passersby stopped by to check out the commotion, and soon enough there was a crowd large enough for Shashank to shed all inhibition and let loose. "For these guys we could have been some aliens," chuckles Reuben. "Like a spaceship, some people came out of a bus and made some noise, and then with that noise they made our heads move," he says while the band excitedly recall this particular kid, who witnessed the entire gig, mouth agape, from his mother's lap. "That kid got initiated into metal, man," says Reuben with a hint of pride.
Stream 'Ironclad' by Undying Inc. below:

Loud, relentless and full of challenges for the discerning listener, Undying Inc., despite their ability to incite near-maniacal hysteria amongst audiences, have over the years developed a bit of a reputation as a musician's band. Mention of the same widens the hint of a smile, at the corner of Reuben's lips, a millimetre more than the mention of 'crazy moshpits' or a 'massive wall of death'. "We have a great deal of respect for the legacy of the Indian scene. Growing up in Shillong, the first time we heard Indian metal was through a tape of Millennium and we were like, 'This can happen in India?' " he says. From wide-eyed dilettante admiration to cynicism borne out of survival, Reuben and his mates are now an indelible part of how this wheel turns. They've survived critics, fickle fans, petty jealousies and even inter-city rivalries by purely fixing their gaze on the music and "not giving a fuck" but, like they say, you can't ever take a band out of the scene. "There is some sort of a bonding in the metal scene and it's getting better. Bands have been together and stuck around for many years now and they are getting more secure in their own zone," says Shashank, as Reuben, who has previously edited this very magazine and represented India in Europe as a musician and a music industry delegate, expresses his concerns. "All that 'old-skool' and 'new-skool' bullshit... why should terms like the 'Bombay scene', the 'Bangalore scene', the 'North-East scene' even exist? Why can't the 'Indian metal scene' be enough? The very concept of it is discriminating against the true nature of what 'metal' is supposed to be," he says. And while it all might be growing commercially, with bigger festivals and increased buzz, many feel that it's not as close knit as, say five years back – not FB/social media well-knit but more in terms of spirit and exchange. "Only till a few years back, it was a more united effort, with a healthy exchange of bands between all parts of the country; it sucks that it's getting so localized. Even with the big names of Indian independent music companies concentrating on bands from their own cities for festivals, or having only local bands play the local gigs to keep costs down is all leading towards a huge disconnect that will make itself more visible in the coming years," he says. We discuss another common phenomenon that many metal bands have witnessed – the absence of regular fans at shows. While Undying can boast of a small group of regulars who have even travelled with them to cities like Bangalore for festivals such as Deccan Rock, today's 16-year-olds are definitely more fickle. "Today's 16 year old kids are there for two gigs and then they've moved on to something like Skrillex or Justin Beiber. I don't want that kind of a fan," laughs Reuben. But Biswarup has a solution to all of that – it's called not giving a fuck.
The band is currently working on their next release, the Ironclad EP, and shall work on an untitled album which they plan to release by the end of the year. Conceptually, Undying have explored the relationship between society, technology and the downward spiral of progress with their previous album Aggressive World Dynasty, themed around the fallout of human condition or today's rat race. "Undying Inc. songs are not built to give you hope, but to show you stark contrasts like they exist," says Reuben, while we speak of the dystopic bent to their subject matter. It's harsh, hard-hitting and not easy to comprehend – it makes demands of the listener and, as Shashank points out, it fits the music like a hand to a glove. The next album will be themed similarly and Reuben throws some light on the same. "We are looking more inwards and more lateral; we are exploring more of the grittier insides of us as creatures, of social, urban and individual decay. It's more organic in its nature," he says. Of the belief that the world is not heading towards the utopian prophecies of hippies any day soon, Undying Inc. are in no mood to conform to any standardisations as they continue to challenge the norms of heavy music and fan expectations. And before the last butt is stubbed into the ashtray, Reuben articulates the Undying philosophy with the resolve of a warrior. "When I am going to die, when I'm fucking old and if I have to look back and say what I got out of it – That's what Undying Inc. will take back from this. We did it our way."
This article originally appeared in the April edition of Rock Street Journal magazine.
Click here to subscribe to the magazine.